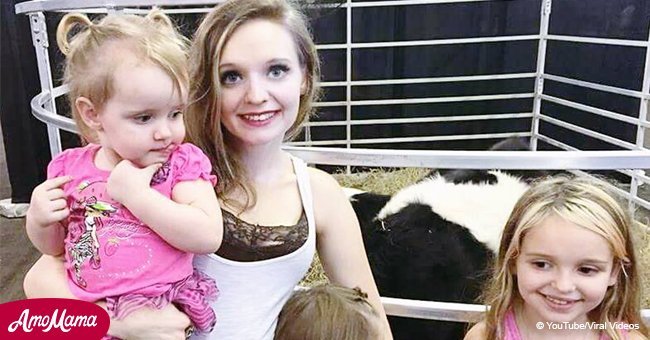 Stranded single mother receives help from a most unlikely person
A woman approached about 20 people for help but was ignored by all.
Journalist Frank Somerville took to Facebook to share Tawny Nelson's story in which she described her experience on a rainy night in Florida and how her faith in humanity was restored.
Nelson is a single mother who lives with her four daughters, who at the time of the incident, were aged nine, five, and two years old while her youngest one was only six weeks old.
Things were particularly rough for the young mother and her children since her partner left them.
The family had a truck which 'was a mess.' Nelson had to constantly air up since the truck had a flat tire. The window motor on the driver's side was not functional and the the alternator belt had to be changed too.
Owing to this, the family chose not to drive unless absolutely necessary.
One day, they had to go to the store. They reluctantly decided to take the truck and drove down to the Winn Dixie, about nine blocks away from their home.
When they were about to get out of the store, it was dark and had begun to pour. The mother quickly loaded her children and the grocery into the truck.
Unfortunately, it refused to spring to life. That is when Nelson realized that one of her daughters had accidentally left a light on and the battery was dead.
Her phone was disconnected too and she did not have any family to speak of.
Nelson then decided to seek help. For the next two hours, she tried to get people to help her. However, she was disheartned as not a single person agreed to help her.
Her daughters began to become restless. They were hungry and wanted to go home. The youngest dayughter was crying. Nelson felt like she was the worst mother in the world.
Just then there was a knock on the passenger window. She saw an older gentleman with a cane and a bad limp on the other side of the window. She guessed he must be 74.
When she opened the door, the man gave her a plate of chicken strips and biscuits and bottles of water to drink. He told her that a tow truck was on the way and that his wife will take them home shortly.
The next morning, she saw the gentleman again at her house with a mechanic. He had asked him to replace the battery and alternator and to fix the window.
Even before she could ask him his name and how much she owed him, he was gone. He had already paid the mechanic, who said that the only payment the elderly man wanted from her was for her to never give up and continue being the amazing mother she was.
Nelson cried recalling the man's wonderful words and gestures. He had come to help her without asking anything and left the same way. He would not even take a hug in return.
The young mother may never be able to thank him, but she hopes she can do something similar to someone else.
Please fill in your e-mail so we can share with you our top stories!