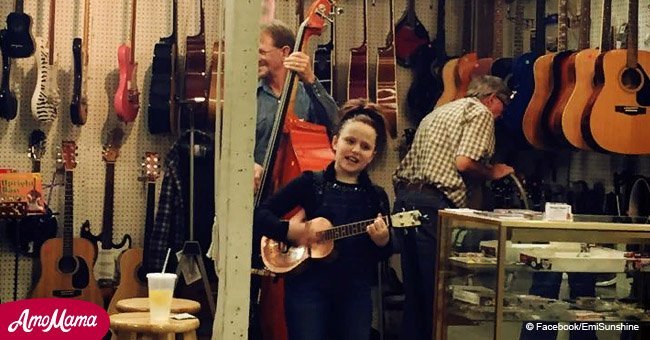 Girl wows customers with her surprise performance of iconic country song
Emi Sunshine's videos have gone viral as her talent keeps reaching new fans. One such performance occurred when she was just 9-years-old.
At the time she was accompanied by a small band as she played the ukulele. According to her website, The Emi Sunshine, she has now gone on to become a well-recognized musician.
In the video where she was just 9, the young singer wowed the crowd that had gathered to watch her perform. Her set was moving and heartfelt.
It was clear that the little girl, who is now 13, had a real talent. She played the ukulele like a pro while singing her heart out.
The audience could be heard in the background cheering her on. They evidently enjoyed her performance as she reached different notes in the song.
Emilie Sunshine Hamilton was born on June 8, 2004. She was born in Maryville and now resides in Madisonville, TN.
The teenager is a singer, songwriter, and multi-instrumentalist. According to her site, she has been surrounded by family members who love mountain melodies and lyrics.
The teenager fell in love with classic country, blues and folk music that she heard growing up. Her music influences include legends like Loretta Lynn, Tanya Tucker and, The Louvin Brothers.
Hamilton launched her professional career performing at churches, community outings and local festivals. A 2014 performance at a Tennessee flea market launched her career.
That video of her stage show went viral on YouTube. Since she began her journey when she was 9 she's gained more than 14 Million YouTube views and a half million Facebook followers.
The teenage sensation self-produces all of her music whether live or in the studio. She plays a wailing guitar; the mandolin, and ukulele.
Hamilton has been described as a "modern-day Janis Joplin." She now plays more than 50 dates a year and has graced the stages of The Today Show and The Grand Ole Opry.
Please fill in your e-mail so we can share with you our top stories!