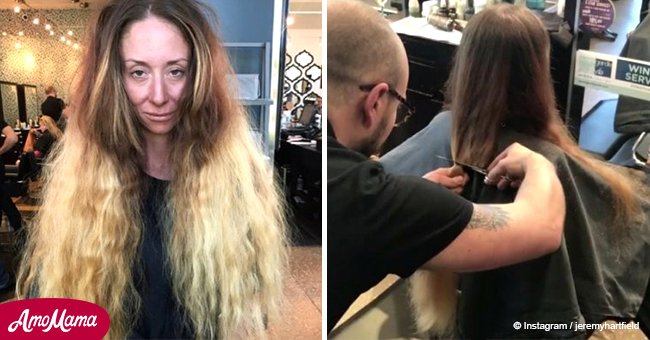 Woman hasn't cut her hair in almost 30 years. But stylist totally transforms her
A team consisting of a hair stylist, colorist and a makeup artist spent more than 7 hours to give Florida resident Holly a makeover before her big day.
Holly, who lives in Destin, had never visited a hair salon in her life. She was planning her wedding in 2017 and wanted to spruce things up a bit.
She made an appointed with Jeremy Hartfield at the Aveda avantgarde salon, and he assembled a team to transform Holly. Hartfield shared her metamorphosis on his Instagram account.
Hartfield's followers were informed that it was 'the makeover that brought us home the trophy,' and added that the team had 'so much fun with this transformation.'
He also shared a short video of Holly's hip-length hair getting the chop, and even though the trim already did wonders for her features, the best was still to come.
His fans couldn't believe the difference when they swiped one more time to see the final result. Holly's damaged locks gave way to a sleek, modern hairstyle.
Jeremy gave credit to Sara Pestella for the coloring job. Pestella utilized a four-step process and while it was tedious, it was worth it in the end.
As reported by Do You Remember, the makeover was complete when makeup artist Amanda Emaus applied her magic. The new look complimented Holly's features.
Jeremy's post has since been shared more than 4,200 times with his clients and fans commending him and the team for a job well done.
An Instagram user known as Kelsey Dickens said Holly looked like a 'whole other person afterward,' while Rebeca King added: 'This is insane! Amazing work! She looks gorgeous.'
Lori Hill wanted to know if Holly donated her tresses to children diagnosed with cancer and urged Jeremy to suggest that option to his clients.
Please fill in your e-mail so we can share with you our top stories!