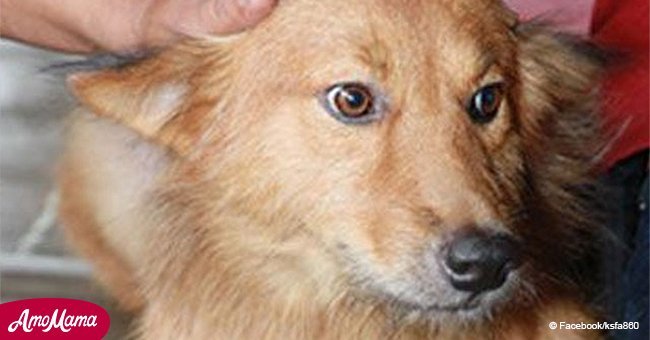 Newborn baby rescued from trash dump by a dog
The owner was shocked to see what the dog brought home in a plastic bag.
It seemed like just any other day when the male canine Pui was taking a stroll outdoors when he crossed a dump site, and something peculiar about it made him stop.
The brown Thai Bangkaew walked towards a strange looking white plastic bag that was left carelessly on the heaps of garbage.
On finding out the contents of the bag, Pui carried the bag all the way to his mater Gumnerd Thongmak's home in the district of Tha Rua
He carefully placed the bag on the patio, and since nobody was around, he began barking loudly to catch his master's attention.
However, the person to come running down the stairs on hearing Pui was a 12-year-old girl named Sudarat.
Sudarat was the niece of Thongmak, and she noticed that Pui was trying to convey a message.
Sudarat opened the white plastic bag and was shocked to find a very young baby curled up inside. Horrified, she ran upstairs to get her mother to see what their pet dog had found, as reported by Bangkok Post.
The 12-year-old girl and her mother did not waste any time in getting the baby girl to Tha Rua Hospital for immediate investigation.
The infant was believed to be born at 7.5 months of the pregnancy term and weighed only 2.2 kgs. After the initial checkup, the baby was moved to the Phranakon Sri Ayutthaya Hospital.
While the authorities are looking for the infant's mother, the district chief Withit Pinnikorn spoke about the heroic act of Pui.
Pinnikorn revealed that Pui was often seen wandering about in the district, implying that he was always on the lookout for anything peculiar.
Pui was bestowed with a leather collar and medal in honor of his heroism by the Red Cross Society's Tha Rua chapter.
The Miracle of Life Foundation, a charitable organization in Tha Rua, also awarded Thongmak 10000 baht as a reward for her pet dog's presence of mind and bravery.
Please fill in your e-mail so we can share with you our top stories!