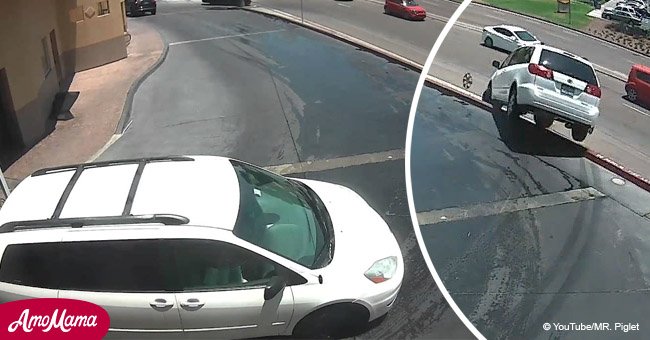 Driver takes a tumble in his car after leaving the carwash
Luckily, no one got hurt when the motorist who was leaving a car wash decided to press the gas pedal.
In the video that was posted by YouTuber Mr. Piglet on June 27, 2016, a white Toyota Sienna is seen appearing from a car wash in San Diego, California. What happens next comes totally unexpected.
The other drivers can be seen making a hard left, but this driver seems to accelerate as he makes a wide turn and careens the car over the edge.
The white Toyota Sienna goes flying off the platform and crashes right into a fire hydrant.
Then an extreme amount of water shoots up into the sky and back onto the vehicle.
Fortunately, no one was injured in the accident.
The short video, running one minute and 32 seconds, has been viewed more than 290,000 times since it was posted.
'What doesn't get me is why did the car who saw the whole thing happen didn't bother to stop to see if they were okay? ' YouTuber hhds113 commented on the video, which is titled 'Epic Car Wash Crash.'
'Such a poor design for a business. The business is at fault for A) poor design, B) no warning, C) no protective barrier. Shut them down and replace it with something that does not have a drive through or drive way with such a dangerous cliff. And no, painting the curb red means do not park, not, "warning there is a ten foot ledge," ' wrote universalchiro.
Lars-Erik Franson added, 'So, why isn't there some kind of guard rail there? I mean you've got wet cars making the asfalt wet and a pretty steeply curved road...Sure the driver could have taken easier, but still it was an accident waiting to happen.'
It was still unclear what the driver was thinking at the time the incident occurred.
Please fill in your e-mail so we can share with you our top stories!