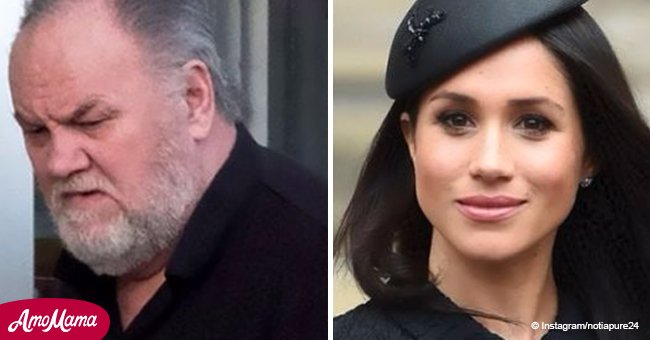 Meghan Markle's father's health condition worsens amid suffering recurrent chest pains
Thomas Markle Sr., who was supposed to walk Meghan down the aisle on Saturday, has been feeling chest pains again after suffering a heart attack last week.
The 73-year-old received an invitation to be present at St. George's Chapel on May 19, 2018, but due to a scandal involving a series of staged photographs, he decided not to attend the ceremony.
Markle Sr. confessed to TMZ that he allowed paparazzi to snap pictures of him trying on his wedding outfit and looking at online images of his daughter and Prince Harry.
He also shared that he checked himself out of General Hospital in Mexico a few days ago in order to be able to attend the Royal Wedding, but it seems that his emotional state isn't helping him one bit.
Not going to the ceremony seems to have affected Markle Sr., who started experiencing chest pains again. He claimed that he needed to go to a more sophisticated hospital because he's worried he might have another heart attack.
Although it breaks the 73-year-old's heart not being at the chapel to witness his little girl tie the knot, he said that his ex-wife, and Meghan's mother, Doria Ragland, would be a 'good choice' for walking her down the aisle.
According to Markle Sr., he has been 'popping Valium for the pain,' but not because of Meghan. The father shared that he felt pain whenever he heard something about Samantha Grant, his oldest daughter.
Grant recently took the blame for the staged photos scandal, revealing that it was all her idea. She said that they did it because they didn't like the way Markle Sr. had been portrayed by media up to that point.
When suggested that Markle Sr. had agreed to take the pictures for money, he claimed to have received $50 000 to $100 000 offers for interviews and that he turned them all down.
Meghan's parents were the only members of her family to be in the 600-guest list. Her half-brother, Markle Jr. demanded an invitation based on blood ties, but Prince Harry's future wife didn't reply.
Please fill in your e-mail so we can share with you our top stories!