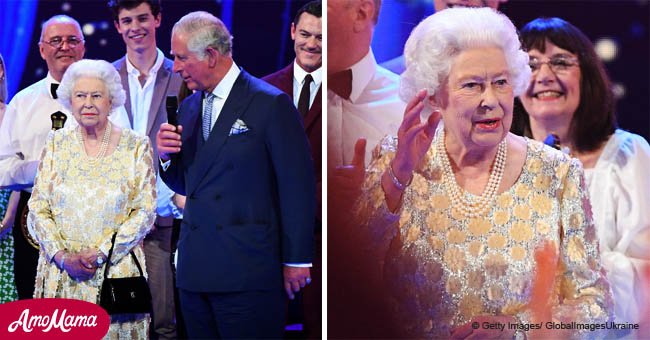 Prince Charles calls the Queen 'mummy' publicly, gets her unexpected reaction in return
Queen Elizabeth rolled her eyes when Prince Charles called her 'Mummy' at the end of her birthday celebration.
The Queen celebrated her birthday on April 21, 2018. To close the event, her son, Charles, took to the stage and raised three cheers at the Royal Albert Hall, as reported by Daily Mail.
Addressing the Queen, the Prince of Wales first referred to her as 'Your Majesty', before choosing to be more familiar by calling her 'Mummy.'
His choice of words had Queen Elizabeth rolling her eyes and smiling. While the performers behind her laughed at the sweet gesture.
There were many performers during the star-studded event, including Sting and Shaggy, Tom Jones, and Kylie Minogue.
Charles told the Queen: "I have a feeling that in 1948 when you were 22, you didn't somehow expect at your 92nd birthday to find your son in his 70th year - just able still to raise a small Hip, Hip."
He added: "Would you all give Her Majesty three unbelievably rousing cheers on her birthday?"
Queen Elizabeth waved her hand to acknowledge the warm applause from the audience.
The Queen matched the Prince of Wales, the Countess of Wessex and Lady Louise Windsor in navy blue color themes.
On arrival, Prince William was seen waving from the back of a car with Prince Harry and Meghan Markle. His wife, Kate Middleton, wasn't in attendance at that time.
Harry and Meghan were among the first to be pictured arriving at the event. The former Suits actress wore a £1,148 or $1,603 Stella McCartney cape dress.
Charles, Camilla, and William joined Queen Elizabeth in the Royal box as the concert got underway. She was then presented with a bouquet of flowers by seven-year-old Mason, who was also celebrating his birthday on the same day.
Harry also took to the stage during the birthday concert to wish his grandmother a happy birthday.
"Tonight we are celebrating the Queen's Birthday but Your Majesty, if you do not mind me saying, you are not someone who is easy to buy gifts for," Harry joked.
He also led tributes to the Queen in his new role as president of The Queen's Commonwealth Trust.
Her Majesty celebrates two birthdays every year: Her actual birthday on April 21 and her 'official birthday' in the summer, which usually falls on the second Saturday in June.
Please fill in your e-mail so we can share with you our top stories!