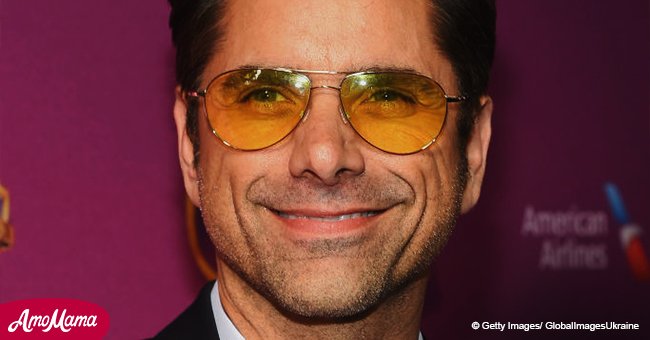 John Stamos shares a photo of his newborn son meeting the 'Full House' cast
John Stamos has dreamt of becoming a dad for so long, and now that he finally has his newborn son Billy, he made sure to introduce his friends-turned-family from 'Full House', Bob Saget and Lori Loughlin.
Sharing an adorable photo on social media of his two co-stars admiring little Billy, the proud father wrote:
"The Tin Man, Dorothy, and The Scarecrow say hi to the cutest of Munchkins."
Lori, who played Aunt Becky on the famous show replied that indeed, Billy was 'the sweetest little munchkin ever'.
At 54, John was ecstatic when he found out that he was going to be a father. He says that everything is 'more exciting' now that he has his son.
John shares his newborn baby with his model wife Caitlin, 31.
According to Stamos' interview with Entertainment Tonight, John could not ask for any more and is very happy with his life. The new father gushed about his son and wife during the interview.
"My wife was so beautiful and so graceful through it all, like she does at life. I mean, she just kind of breezed through. I hate to tell women, but she did it in about 20 minutes. It happens so fast and then they were like 'Take pictures! Grab her leg!' And then it was over, but it was just so beautiful."
John also shared his happiness about being a first time father, saying that fatherhood is beautiful.
"It's more beautiful than I imagined. Everything is more colorful, more exciting. Music, you know, sounds better. He's just a beautiful little boy."
Prior to Billy's birth, John has only imagined how it would feel like to gaze lovingly at his son just like how his father used to do with him.
"Can't wait to look at my baby like this. #BillStamos #OrdinaryHero"
Now, Stamos is familiar with the feeling and is loving every bit of it.
Please fill in your e-mail so we can share with you our top stories!