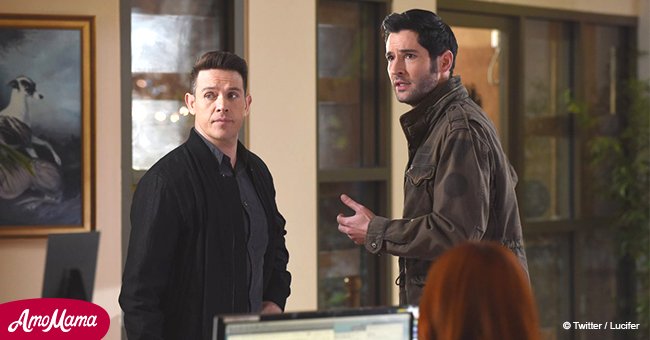 Fox explains why 'Lucifer' was cancelled
The fan-favorite, Lucifer, was cancelled by the Fox network after three seasons. The decision saw fans start a hashtag on Twitter to try and save it.
Even the show's showrunner explained that they tried to save the series with their finale on Monday. Trying to quell the fan's anger, Fox's chairman explained the reason for the show's removal reported Deadline.
Lucifer's cancellation saw the hashtag #SaveLucifer pop up and trend on Twitter. Fox chairman Gary Newman explained their decision during the network's upfront press call on Monday.
He shared that the show wasn't making the ratings they desired. It appears as though not only the fans were surprised by the cancellation.
The series star, Tom Ellis, posted a message on social media thanking the fans for their support and apologizing for the show's removal. 'Fox has indeed cancelled Lucifer. I'm so sorry guys,' the actor wrote.
He shared that the past three years had been the most amazing experience for him. Ellis added that he enjoyed playing Lucifer and falling in love with the fans.
"[Cancelling Lucifer was] a ratings-based decision; we had very a successful late year with all four new dramas renewed. We felt like performance-wise, we needed to make that change."
The series had its finale on Monday night. The showrunner, Joe Henderson, confessed that the episode would probably anger some fans.
He explained last week via Twitter that the season finale was rounded off with a huge cliffhanger so that Fox wouldn't cancel it. 'Instead, we're going to frustrate the hell out of you fans. I'm so sorry for that,' Henderson said.
He confessed that the Lucifer finale was the best hour of television he had been lucky to write. The showrunner shared that it concluded everything from the season.
However, it ended in a teaser which would run into season four, he said at the time. Henderson supported the fans that rallied behind having another season for the show.
Other series that were cancelled would be picked up again after subsequent support by fans. Last year, NBC's decision to cancel Timeless after one season received some backlash.
The network yielded and brought it back for a second season. It also ended with a cliffhanger but has yet to be renewed for a third season.
Please fill in your e-mail so we can share with you our top stories!