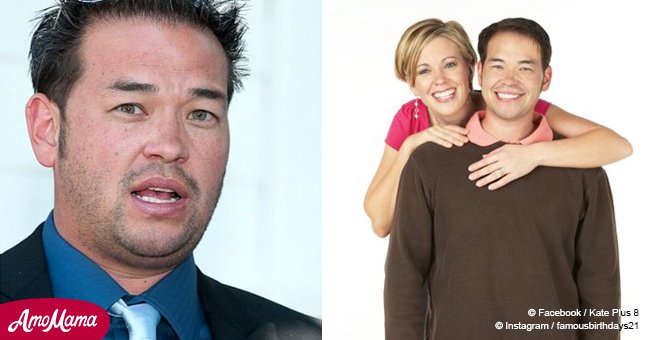 Jon Gosselin shares rare photo with daughter Hannah on her 14th birthday
The Gosselin family is most famously known for their reality TV show, Kate & Jon Plus 8. The show was renamed to Kate Plus 8 after Kate and Jon divorced.
Kate has full custody of their eight children while Jon has visitation rights. Jon is still fighting for joint legal custody, and the couple had been making headlines since the split.
Despite the unpleasantness, Jon recently shared a photo of his daughter. It was her 14th birthday, and she spent the day with her father while her seven siblings stayed with Kate.
As reported by AOL, Hannah shared a birthday with Leah, Alexis, Joel, Colin, and Aaden. Even though they didn't spend the day with their father, Jon wrote on Instagram that he loves them all very much.
An Instagram user known as Eileen McKeefery offended Jon when she asked about the logistics of the birthday celebrations. She questioned if 'Hanna [chose] to spend her birthday apart from her siblings.'
She also asked if Jon planned on doing 'something special' with each of the sextuplets, or if it would only be Hannah spending the day with him.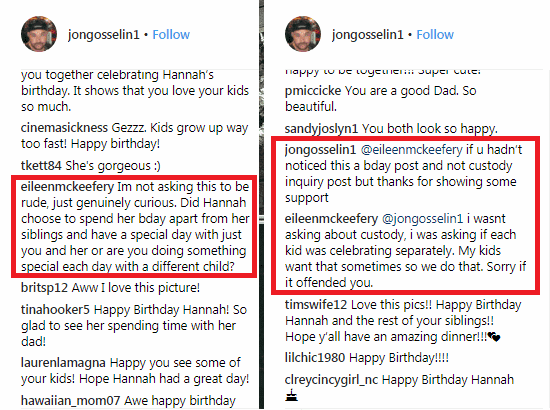 Source: Instagram/jongosselin1
Jon responded to her message by reminding her that his photo was 'a birthday post and not a custody inquiry.' 'But thanks for showing some support,' he added.
Eileen explained that it wasn't her intention to offend, she merely wanted to know if they celebrated separately because her children insist on separate parties at times.
Several of his fans rushed to his defense, and a user known only as Irish Canadian Princess said it's the children's decision who they want to spend the day with.
She added that Eileen 'should be happy Hannah is hanging out with her dad.' while Elizabeth remarked how 'nosy' some of the commentators were. She asked fellow fans to respect Jon and Hannah's special day.
Please fill in your e-mail so we can share with you our top stories!