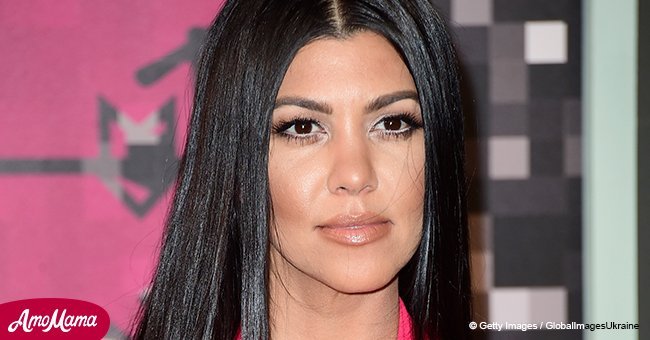 Kourtney Kardashian and beau reportedly want to move in together as they search for new house
Kourtney Kardashian and her French boyfriend Younes Bendjima are taking things to the next level as they were reportedly spotted apartment hunting in Paris.
Life and Style magazine was able to get exclusive details about the couple's reported apartment hunting, after a source shared details of an overheard phone call between Younes and Kourtney.
While Younes, 24, was spotted arriving solo at the CDG airport in Paris, he made sure to keep his girlfriend in mind when he spoke to his friend about apartment hunting.
An eyewitness exclusively told 'Life&Style' magazine that he seemed to have had more suitcases with him than usual.
"When he got off the plane, he picked up three extra-large suitcases, plus a duffle bag from the baggage claim. His friend met him at the airport and helped him with all his baggage, and they were talking about apartment hunting."
Kourtney and Younes have been dating for over a year now, and it seems the couple is ready to take it to the next level by purchasing property in Paris.
While this seems to be the case, Kourtney definitely has no plans moving out of their Calabasas mansion.
According to the insider,
"Kourtney and Younes want to buy their own love nest in Paris - the city where they first met - for romantic getaways. She loves the shopping, the nightlife, the attitude. And Younes grew up there. He still has family there and she wants to be more a part of his family, just as he became a part of hers."
Kardashian has three children with her ex-boyfriend Scott Disick. Mason, 8, Penelope, 5, and Reign 3, are still Courtney's main priority, and there is no possibility of them moving away from their Los Angeles home.
One person who is not particularly happy about Kourtney's budding romance is her ex-lover Scott Disick.
On a recent episode of 'Keeping Up With The Kardashians', the eldest Kardashian sister spoke to Khloe about her problems with Scott.
It seems Kourtney still receives late night phone calls from her ex, despite his relationship with 19-year-old Sofia Richie.
"He was just ranting. He was like, 'What are we doing in life? What are you doing? What am I doing?' And he'll go 'But what are you doing? Is it any better? By the end of the conversation, I just was like 'I have a boyfrined.. it's not the craziest thing that's ever happened in the world! And he was like, 'he's your boyfriend?! and then he hung up the phone.'"
Scott Disick might have to lose hope oaths one, especially after Kourtney and Younes plan to take things to the next level by buying their own getaway apartment in the City of Love.
https://www.lifeandstylemag.com/posts/kourtney-kardashian-younes-bendjima-moving-in-together-160069
Please fill in your e-mail so we can share with you our top stories!