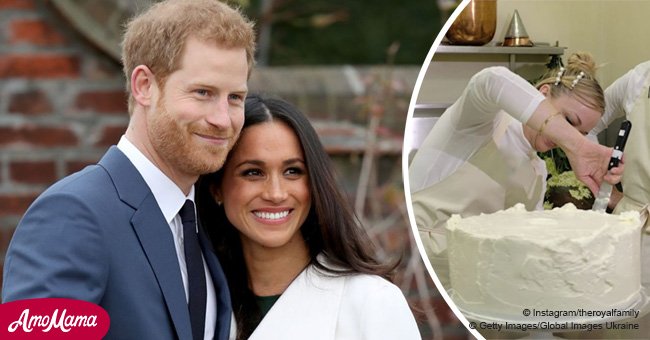 Royal wedding cake shown in official new video
Buckingham Palace released a behind-the-scenes video on it's official Instagram account showing the Royal Wedding cake in the making, and if it tastes as good as it looks it will be delicious.
Royal Baker Claire Ptak appears in the video working on the icing of the cake, and she shared some of its characteristics. She explained it is a lemon sponge cake with elderflower syrup with Amalfi lemon curd and covered with Swiss meringue.
Ptak vowed to find the perfect balance in the cake she is making for the wedding celebration of Prince Harry and Meghan Markle, working with contrasting flavors to delight the lucky guests to the much-expected event, according to Pop Culture.
'Where the buttercream is really sweet, the lemon curd is very tart. So you get a really lovely thing happening when you take a bite, which is to get all those flavors and sensations. Hopefully, it's perfectly balanced,' Ptak says in the video.
We will have to wait until the reception to see the cake's definite look because it will be assembled the morning of the wedding.
'We will assemble it in-situ at Windsor Castle Saturday morning and then add the flowers because they obviously need to be added at the last moment,' the pastry chef explained.
Only hours before Harry and Markle become husband and wife, the sharing of this last minute details feeds the curiosity of the royal watchers all over the world, considering that many important things about the ceremony remain a mystery.
One of the greatest intrigues surrounding the Royal Wedding is how the bride's dress is going to be, and who might be the designer who is going to dress the former Suit's star for her special day.
It was suggested that David Emanuel, the designer of Princess Diana's 1981 wedding gown might be the one dressing Markle, and this rumor is gaining credibility after Emanuel was seen at Windsor Castle on May 17, Harper's Bazaar reported.
If he ends up being the one behind Markle's bridal look, we can have some idea of what the dress is going to look like, based on what Emanuel has teased what he would do if he was to design her gown.
'Something sleek and clean, quite bodied with a long train, and I'd put her in a clinging silk crepe. But, you know, she can't be the sex bomb on her wedding day. She can look smoldering and wonderful, but it's got to be regal,' he said.
Please fill in your e-mail so we can share with you our top stories!