Princess Charlotte steals the show with her cute reaction to Harry & Meghan at their wedding
Princess Charlotte proved to be a cheeky little angel by stealing the show as she arrived at St. George's Chapel with Kate Middleton and Prince George.
The Duchess of Cambridge, who was the star of the last Royal Wedding in 2011, when she married Prince William, guided her children up the steps while wearing a pale yellow Alexander McQueen dress.
But while she received plenty of attention, it was Charlotte who melted the hearts of those in attendance by waving at them. Prince William didn't ride with his family; he was spotted earlier walking to the chapel with Harry, according to Buckingham Palace.
Charlotte was nominated to be one of the bridesmaids and played her role well. Prince George, on the other hand, had a harder time facing the crowd and hid behind his father's leg when he stepped outside to greet them.
Princess Charlotte waves to #PrinceHarry and #MeghanMarkle on the steps of St George's Chapel after the #RoyalWedding https://t.co/clmlONBpou pic.twitter.com/va6bl3vvaQ

— Fox News (@FoxNews) May 19, 2018
Much like the rest of the bridesmaids, the 3-year-old Princess wore a white dress with a flower crown, which replicated a bridal boquet.
To contrast with the girls, the pageboys, including Prince George, wore black suits with a red stripe on their pants.
Princess Charlotte waving is the BEST #RoyalWedding pic.twitter.com/MTcz81EdgD

— GIPHY (@GIPHY) May 19, 2018
The Duke and Duchess of Cambridge's daughter carried herself in a manner beyond her age, but the same can't be said about Zalie Warren, one of the bridesmaids.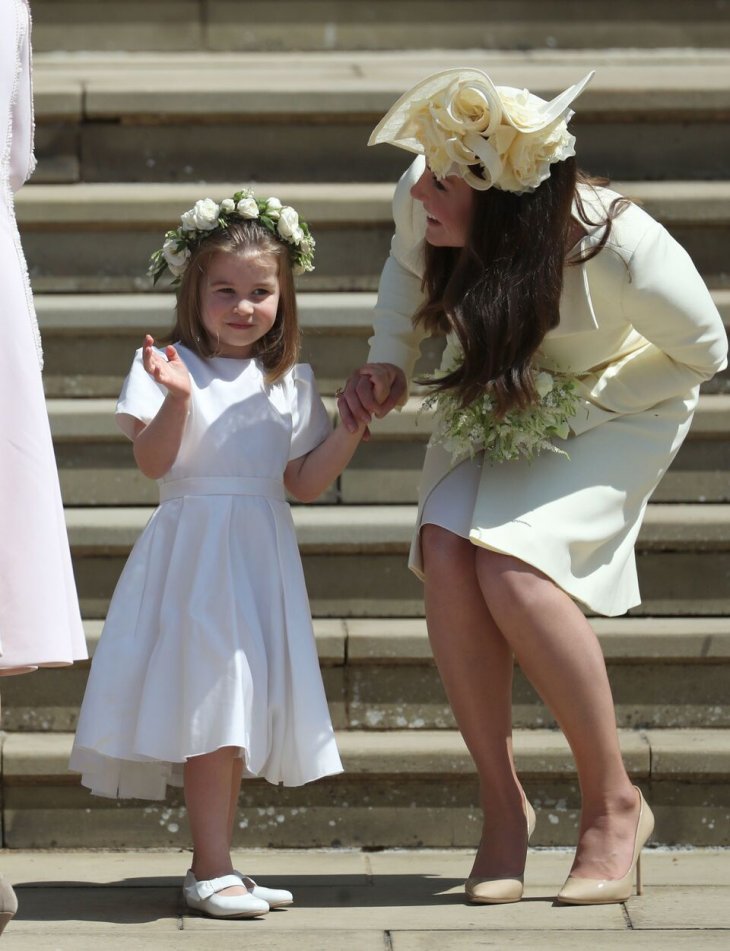 The pressure proved to be too much for the 2-year-old, who started crying before Meghan Markle stepped into the chapel and had to be picked up and comforted by Prince George and Princess Charlotte's nanny, whose identity is yet to be revealed.