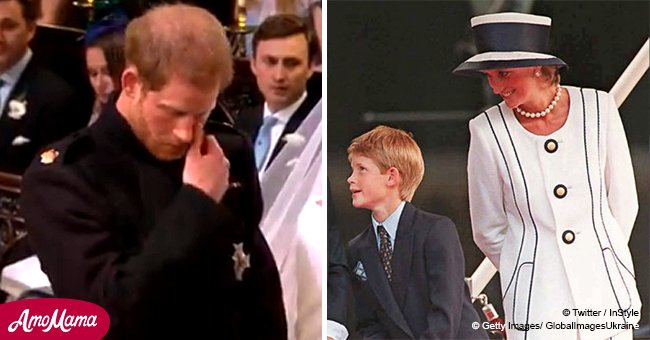 Prince Harry breaks down during ceremony for Diana's favorite hymn
Prince Harry and Duchess Meghan's wedding was used to tribute his mother, Princess Diana. During the event, one of her favorite hymns was played.
This was a touching moment for Harry as he was seen wiping away tears. The couple paid tribute to his mother throughout their event according to Daily Mail.
Prince Harry, 33, had a lot of tears to shed recently at his wedding to Duchess Meghan, 36. He was moved to tears after seeing his bride walk down the aisle.
Then later he was overcome by emotion while listening to the choir sing Guide Me, O Thou Great Redeemer. This happened to be one of Diana's favorite hymns when she was alive.
The couple chose to include the hymn as a tribute to Harry's mother. The song was initially performed at her funeral at Westminster Abbey 20 years ago when the Prince was just 12-years-old.
Harry kept his composure throughout, but seemed to wipe away tears as the closing bars of the hymn were played. Last year in an ITV documentary, Harry admitted that he'd only cried twice over his mother's death.
'The first time I cried was at the funeral on the island.'
He confessed that he cried at her funeral and once more since then. His mother was a big part of his wedding day even though she couldn't be physically there.
Harry and his bride made sure to include tributes to his late mother throughout their big day. Meghan carried a bouquet containing forget-me-nots which were specifically chosen as they were Diana's favorite flower.
'The couple specifically chose them to be included in Ms. Markle's bouquet to honour the memory of the late Princess on this special day,' a spokesperson for Kensington Palace revealed.
Princess Diana's sister, Lady Jane Fellowes, was responsible for giving the only reading of the service. She read the eighth chapter of the Song of Solomon.
A close friend of Diana's, Elton John, was asked by Harry to play a medley of his best-loved hits during the couple's lunchtime reception. John had also performed at the Prince's mother's funeral.
Meghan's engagement ring, designed by Harry, featured two stones from Diana's personal collection. She also wore one of her late mother-in-law's pieces for their evening reception.
Diana's aquamarine ring could be seen on Meghan's hand as the couple left for Frogmore House.
Please fill in your e-mail so we can share with you our top stories!