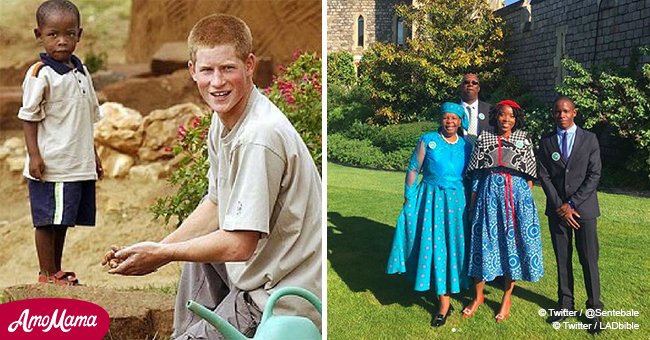 Prince Harry befriended 4-year-old African orphan, invites him to Royal wedding 14 years later
Everyone got to see the Royal wedding on their televisions and online, but only a few people got to be there physically. One of those lucky people was a boy from Lesotho in Africa.
Prince Harry met Mutsu in 2004 when the Prince went to the country for humanitarian work. The pair became close for those two months and Harry never forgot about him according to a Twitter post.
Prince Harry befriended a young boy called Mutsu while he was in Lesotho 14 years ago. He had gone to the African country in 2004 to work with an orphanage where he tried to raise awareness to the world that Lesotho was struggling with AIDS, poverty, and drought.
Mutsu, who was just four at the time, was pictured hanging out with the Prince. They were seen planting a tree and enjoying their friendship.
Prince Harry and Prince Seeiso from Lesotho then opened a charity called Sentebale. The charity recently tweeted a picture of Mutsu all grown up standing outside the chapel in Windsor
The 18-year-old was 1 of 2,460 members of the public who were handed a Golden Ticket to stand in the garden directly outside St George's Chapel. There they got to greet Harry and Meghan and they also watched them share their first kiss as a married couple.
"I've come here with all the wishes of Lesotho, I'm not here on my own behalf I'm here representing the entire nation who are so happy."
Prince Seeiso, Lad Bible, May 20, 2018
Daily Mail reported that those who were invited included charity, workers, local volunteers, community heroes and people who have 'made their cities, towns, and villages a better place to live'.
They didn't get an inside look at the whole ceremony but they walked away with goodie bags. The bags contained a giant chocolate coin, a tin of shortbread, a fridge magnet, a bottle of branded Windsor Castle water, and a wedding program.
They also received a voucher for 20 percent off in the castle shop. In attendance with Mutsu from Lesotho was Prince Seeiso and Princess Mabereng.
They stated, "The young Harry who first arrived in Lesotho in 2004 is now a grown man getting married." Sentebale's chairman, Johnny Hornby, told the Daily Express that "[Mutsu's] a bit shy now, but he's doing really well. He's just finishing school."
The Prince and Princess were pictured two years ago for a performance that Mutsu had with the Basotho Youth Choir in the UK. Ironically, the name of the charity means 'don't forget me' in Sotho.
Prince Harry clearly hasn't forgotten his young friend.
Please fill in your e-mail so we can share with you our top stories!