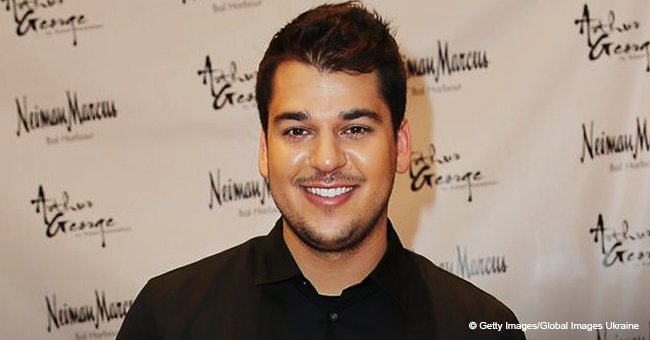 Rob Kardashian melts hearts with new photos of daughter Dream in pink plaid frock at her tea party
Celebritist found new pictures from Twitter, ones that attempted explaining why Rob Kardashian is so enamored with his daughter. 1-year-old Dream Renée helped her father melt the hearts of his fans with the photos capturing her solo tea party. The tot also looked her usual endearing self in a pink plaid dress while she sat comfortably for her 'party.'
Rob Kardashian seems to love his daughter with Blac Chyna, Dream Renée more than the usual father loves his daughter.
Hardly is there a time he is not thinking about her, a fact that is quickly noticed from his many social media shares of her pictures.
We bet fans did not see Rob's newest show off of his daughter coming but were not surprised, seeing they are familiar with such.
The 31-year-old television personality infected his fans with his love for her with snapshots of his baby girl, sharing pictures from her tea party.
One could surmise from the photos that the baby wakes up to such 'parties' daily, taking cues from Rob's caption:
'Mornings start with a tea party.'
In the picture, Dream sat over a cloth spread on the wooden floor, enjoying her tea with three white mugs that suggest different servings of tea.
One more snap confirms her tea habits or exaggeratedly put – addiction – as she held yet another serving of tea in a white mug.
She sat like a princess on a throne in an entirely new outfit sure to have her dad and fans wondering about her loveliness.
Dream probably loves the color pink more than any other, as she chose an all-pink ensemble, from her gown to her sneakers.
Rob commented on the picture, stressing the mystery of how she managed to look a trifle differently from her first photo, only moments apart.
Her dad's marvel rubbed off on us, and we love Dream!
What exciting things can you point out about Dream?
Please fill in your e-mail so we can share with you our top stories!