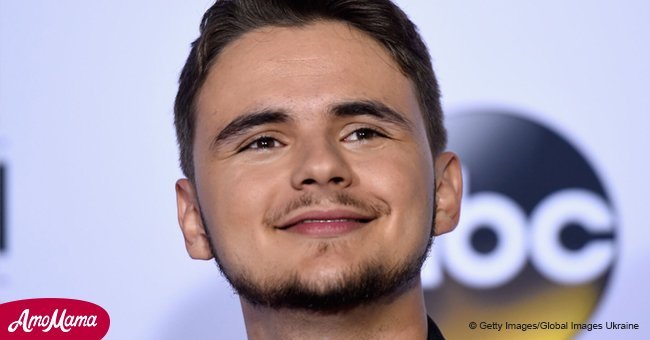 Prince Jackson dons a stylish dark suit while showing off his girlfriend in a rare snap
Prince Jackson shared an Instagram post where he looked dapper in a suit as he posed with his blonde girlfriend.
The son of the King of Pop rarely posts anything on his social media. Although recently, he shared a sweet photo of himself with his 21-year-old girlfriend on his Instagram.
The pair looked to have attended a classy event since they were both dressed in formal attire. Jackson wore a black suit and tie with a white long-sleeves shirt inside.
As for his girlfriend, she wore a sleeveless, patterned, black dress that reached just above her knee. She also had a black sling bag hanging on her shoulder.
Jackson and his girlfriend looked very sweet as he placed his arm around her waist. They were posing in front of such gorgeous flowers at the Sofitel Hotel in Beverly Hills, California.
On the caption, Jackson jokingly wrote that his girlfriend wanted to take a nice picture but he ended up looking like he was about to sneeze.
Some of his followers left comments saying that the couple looks very good together. Others took notice of Jackson's supposed weight loss.
Jennifer wrote, 'He's lost some weight? Looks good.'
Another fan, Katy commented that they are a 'beautiful couple.'
A third fan, Julia, praised Jackson and wrote, 'I'm so proud of what an amazing human you have turned out to be!'
The couple has been together for quite some time as they celebrated their first anniversary earlier this year. They went on a trip to Carmel and San Francisco to celebrate.
In April 2018, they also traveled together to Las Vegas. Jackson commemorated the trip with a sweet photo of himself and his girlfriend kissing his cheek.
Jackson, currently 21 years old, is the son of Michael Jackson and Paris Jackson's older brother.
Please fill in your e-mail so we can share with you our top stories!