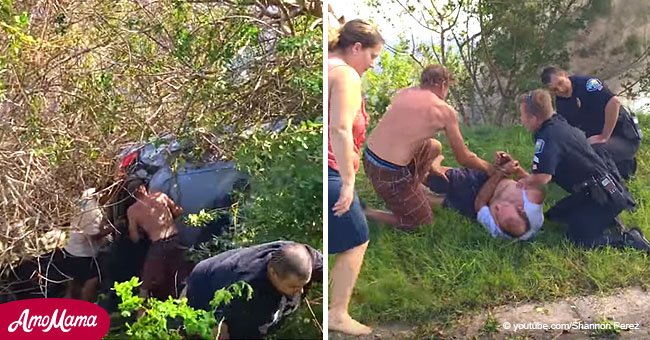 Bystanders saved man from burning car
It was a heartwarming effort by nearly a dozen people and a couple of police officers who saved a man trapped inside a burning car.
The video of the rescue operation was captured by Shannon Perez, who then uploaded it on YouTube.
The accident occurred in Palm Bay after an SUV crashed into another vehicle on U.S. 1 and plunged down an embankment and caught fire.
The driver of the car was trapped inside when bystanders decided not to wait for the police or the fire engine to arrive.
Some people can be seen with a fire extinguisher, obtained from a nearby hotel, according to WESH.
Thankfully, moments later police arrived on the scene and joined the rescue efforts to get the man out of the car.
Those watching the accident from the embankment were anxious with one bystander praying out loud for the man's safety.
While the vehicle continued to burn, the driver of the car was pulled out from the rear end of the SUV. Everyone then linked arms to help pull him up the embankment.
As the strangers pulled one another up the hill that was dense with vegetation, the flames grew larger.
According to WESH, the unidentified man was then taken to Holmes Regional Medical Center for treatment. There were no major injuries, though the rescuers suffered minor scrapes and scratches.
The Palm Bay Police Public Information Officer, Mike Bandish, told NBC that the department was proud of the citizens and the officers who extended their support to the crash victim.
Bystander Tom Sais, who was one of the first civilians to arrive at the scene, said that the driver of the car was strapped to his seat belt and was hanging sideways.
He added that strangers coming together for a common goal – to save a man's life – was just beautiful.
Please fill in your e-mail so we can share with you our top stories!