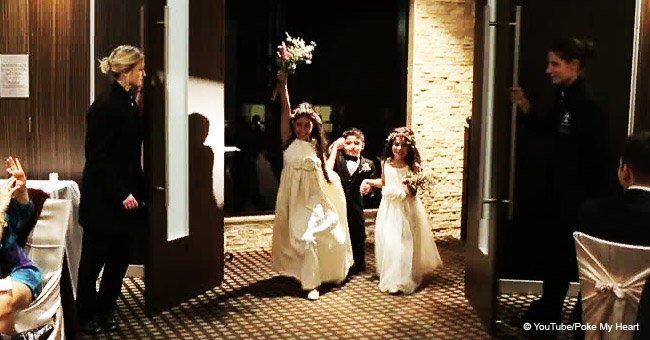 Flower girl wins $100 at wedding with her dance moves
A flower girl spiced up the dance floor during a wedding reception.
A video shared by Jukin Media shows a confident, young girl grooving in the middle of the hall as wedding guests looked on.
The guests were obviously pleased as they took out their smartphones to take a photo or video of the talented flower girl.
The clip starts with the door opening to reveal two flower girls and a little boy dressed in a tuxedo.
As soon as they stepped into the hall, the trio started dancing to the upbeat music.
The video then cut into the smaller girl dancing in the middle of the hall. She dropped her flowers and went to the center of the hall
Dressed in a white dress, the girl danced as though nobody was watching.
The young girl, who seemed to be an aspiring pop star, completely entertained the guests.
She truly stole the show! All eyes were on her.
At the end of her dance, the male host asked her how much he owed her.
Even the bridesmaids were cheering on her.
"A hundred bucks!" she said. The host then handed her what she wanted. It made the young aspiring dancer happy.
This young girl seems to have a bright future in the entertainment industry ahead of her.
Flower girls often steal the spotlight during weddings.
At Prince Harry and Meghan Markle's wedding, Princess Charlotte also drew much attention for her adorable moments.
While she was not seen dancing, Princess Charlotte's candid moments - like when she sneezed - amused onlookers and the global audience whose eyes were glued on TV or their laptop watching the royal wedding.
Please fill in your e-mail so we can share with you our top stories!