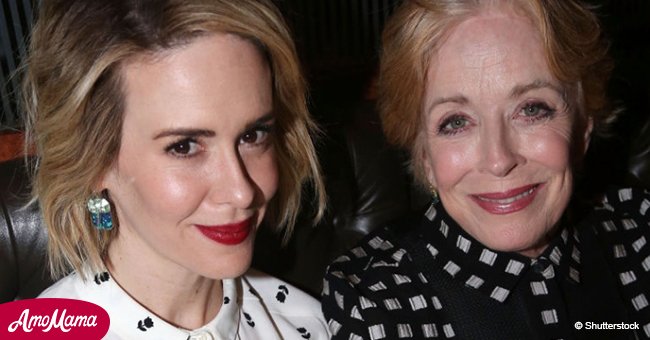 Sarah Paulson, 43, hits back at critics of age-gap between her and partner, Holland Taylor, 75
Speaking in an interview, she had a very simple response for people who don't approve of her partner because of the age difference.
Sarah Paulson and Holland Taylor went public with their relationship in 2015, and immediately set tongues wagging over the 32-year difference between them.
In the media storm that followed the big reveal, the two women were graceful, and largely ignored what anyone else thought.
Now, 3 years later, the couple are still going strong, and people still have an opinion about it. In an exclusive interview clip shared by People, Paulson explained what she does when others comment on her relationship.
Paulson and Taylor first met a decade ago at a dinner party. At the time, Paulson was dating someone else, but remembered thinking that Taylor was "probably the most exquisitely beautiful woman [she'd] ever seen."
When they crossed paths again a few years later, they started exchanging messages, and decided to go out to dinner. They've been together ever since.
During her interview, Paulson explained that she doesn't care what anyone thinks of her relationship.
"If anyone wants to spend any time thinking I'm strange for loving the most spectacular person on the planet, then that's their problem," she said. "I'm doing just fine."
She also opened up about her love of taking on film roles that require a complete transformation on her part, be it physical or emotional.
"The more I can look in the mirror and not recognize myself, the more excited I am," she said.
In that vein, she has played a sociopath, a drug addict, conjoined twins, and real-life prosecutor Marcia Clark.
Paulson is only 43 years old, and has no intention of ever letting her age slow her down.
She admits that she offers catches herself worrying about how close she is to the big 5-0, but stops herself by remembering she has no idea what life will bring in those years in between.
"That's just what makes life so sweet. You cross your fingers, take a deep breath and jump. And that's really all you can do," she explained.
Please fill in your e-mail so we can share with you our top stories!