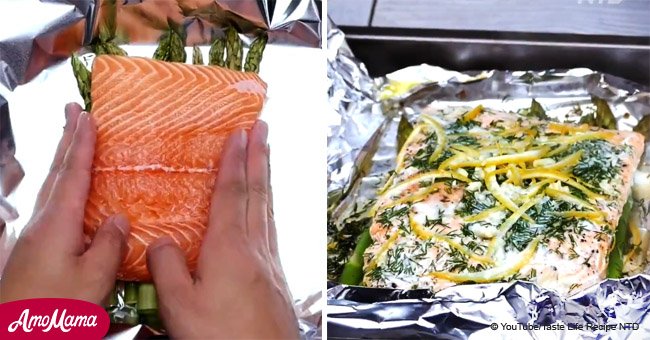 Two ways to cook the perfect salmon
While very healthy, fish can also be quite a daunting thing to cook if you don't know how. But there are some simple and tasty recipes that could be a good starting point.
Salmon is one of the healthiest fish dishes, and can also be super quick and easy to cook, regardless of experience.
NTD TV shared two easy salmon recipes, that both look and taste wonderful, giving even beginner cooks the opportunity to enjoy these healthy dishes.
There are two different recipes, both of which require similar ingredients and the same kitchen tools.
The first recipe requires 2 pounds of sliced salmon, 1 1/2 cups asparagus, salt & pepper, 1/8 cup of fresh dill, 1/8 cup of lemon peel, 1 tsp garlic, several cubes of butter, and 1 cup cream.
Kitchen tools and utensils that wil come in handy are: A chopping board, foil, a spatula, a set of knives (one for the salmon and the other for the lemon and asparagus), and a frying pan.
For the first recipe, preheat the oven to 375 degrees. Then start by cutting away the salmon's skin, being careful to take only the skin and outer layers, leaving the meat intact.
Then line the baking tray with foil, and line the asparagus up in about the same size space as the piece of salmon. Set the fish atop the bed of asparagus, and season with salt and pepper.
Next chop the fresh dill and lemon peels, and add both, with the garlic, to the salmon. Finally, add about three cubes of butter on top of the seasoning.
When all this is done, cover the salmon completely with the foil. Bake for approximately 20 minutes.
The second recipe is a stovetop recipe, in which the fish is fried instead of baked.
Cut the salmon into two halves, and season all sides with salt and pepper. Once done, place the seasoned salmon in a frying pan with oil. Add a stem of fresh dill and garlic to the pan as well. There is no need to cut them.
Regularly turn the salmon, until it has a uniform shade of brown across both sides. Add a cube of butter to the pan, and then sprinkle the salmon with its own sauces.
Serve up and enjoy. Remember to add some vegetables to the dish for a full meal.
Please fill in your e-mail so we can share with you our top stories!