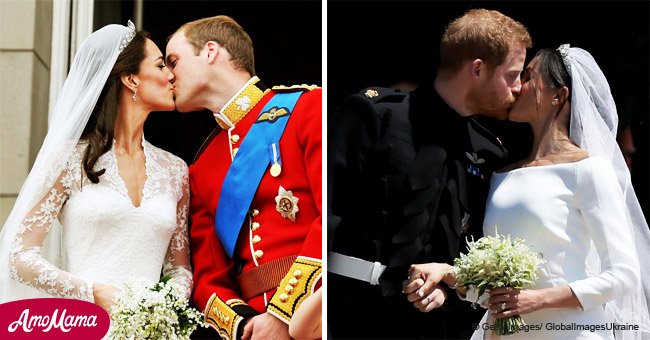 Royal expert compares wedding photos of Duchesses Kate and Meghan

Prince Harry and Meghan Markles' wedding photos are not as formal as Prince William and Kate Middleton's official portraits.
Recently, Kensington Palace has released three official photographs of the Duke and Duchess of Sussex, taken by photographer Alexi Lubomirski, who also took their engagement photos, as reported by Daily Mail.
According to expert Grant Harrold, who is known as the Royal Butler, Harry and Meghan's wedding photos show their 'more relaxed approach' compared to the Duke and Duchess of Cambridge's formal pictures.
He said the latest pictures prove once again that the loved-up couple is "very modern."
"The wedding pictures released today echo my views on the Duke and Duchess of Sussex being very modern royals," Harrold told Daily Mail. "These images go to show just that and the less formal pictures echo the engagement photos of the happy couple too."
Explaining the contrasting wedding photos, he pointed out that Prince Charles and Prince William are first and second in line to the throne.
"Let's not forget that the official Pictures of the Prince and Princess of Wales and the Duke and Duchess of Cambridge were fitting for that of future Kings and Queens," he said.
Harrold added that Harry can have a more relaxed approach in his wedding and official pictures because he's sixth in line to the throne.
He continued that the newly wedded couple's photographs "are wonderful to see and really goes to show what modern royals they are."
Judi James, the leading television expert in body language, described Harry and Meghan's engagement pictures to Daily Mail.
She said: "If there were any protocol about the intimacy levels of royal engagement photos Harry and Meghan have cut right through it with the stunningly sexy poses that show a couple so much in love that the viewer might seem to be intruding."
"While William and Kate opted for some polite snuggling in their photos Harry has raised the bar by wrapping Meghan into his coat," James added.
Harry and Meghan have been in a relationship since June 2016. The press began to report about their relationship in October 2016.
The former Suits actress opened up about her relationship with Harry in a September 2017 interview.
Later that month, the pair made their first public appearance together at an official royal engagement at Invictus Games in Toronto, an event Harry has been spearheading in recent years.
Please fill in your e-mail so we can share with you our top stories!