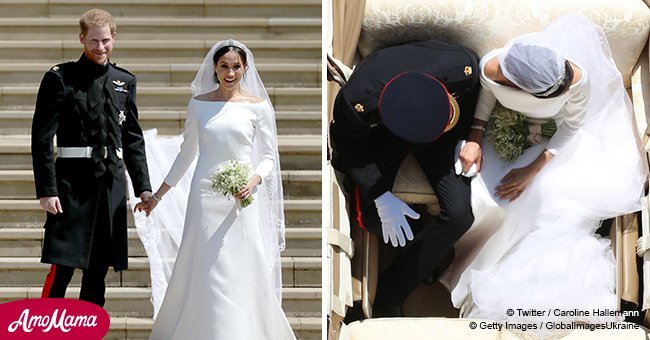 Photographer shares story behind his iconic Royal wedding photo
It is one of the most talked about snapshots from the Royal Wedding. Now we know under what circumstances it was taken.
Yui Mok, a photographer for UK-based Press Association, took to Twitter to share the story behind one of the most memorable photographs taken during the Royal Wedding of Prince Harry and Meghan Markle.
The photograph, which he disclosed was taken by himself, showed the couple in their carriage as they left St. George's Chapel at Windsor Castle. What made the photograph truly unique was that it was taken from an overhead angle.
In his tweet, Nok explained that how he was fortunate to be positioned at the right spot for the iconic shot. 'I was positioned on the roof of George IV Gateway of Windsor Castle,' he wrote.
He further stated that Harry and Markle's carriage passed right beneath him during their procession. Mok also said that he had 'one-second window' to get that shot while focusing through a metal grill above which he was standing.
Surprisingly, the photographer mentioned that he was 'happy to get anything.'
After Mok's tweet, one of his followers pointed out how the couple's positioning in the carriage was in the shape of a heart. She inquired if Nok had noticed that while taking the shot as well. In reply, Mok humbly replied that the snapshot was purely coincidental.
His tweet read: 'Purely coincidental. I had less than a one-second window to take that particular shot - whilst having to focus through a metal grill I was standing over - so was happy to get anything really.'
In the thread of his tweet, Mok also revealed that he had a 'big sigh of relief' when his part was done because nothing had gone wrong on the day.
Please fill in your e-mail so we can share with you our top stories!