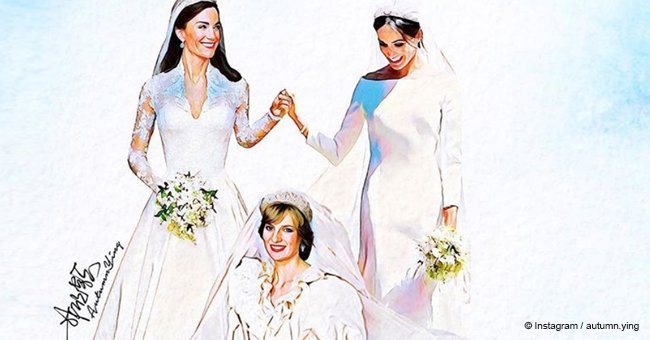 Artist creates wedding portraits that feature Diana with Kate and Meghan
Though the Royal family missed Princess Diana, a budding artist visualized what it would be like to have her on her son's special day.
Autumn Ying took to Instagram to share her beautiful paintings of Princess Diana with both her daughters-in-law.
The Duke of Sussex Prince Harry could not have his mother by his side on the day of his wedding on May 19, 2018. However, he made sure she was present in spirit.
He wanted her to a huge part of such big occasions, hence used two diamonds from her collection in the engagement ring he gave Meghan Markle.
The flowers in the new Duchess' bouquet were Diana's favorite flowers, forget-me-nots, which Harry handpicked a day before the wedding.
There is one artist who went one step ahead and re-created the day, albeit on paper. People got to imagine how things would have turned out to be if the late Princess were alive.
"While Princess Diana won't get to see both her daughters-in-law in reality, I'm thinking of visualising the scene as a touching tribute to the late mother of Prince William and Prince Harry."
One painting shows the People's Princess with her two daughters-in-law, Kate Middleton and Meghan Markle. The beautiful image has the three of them in their respective wedding dresses from their own wedding days.
Another of the painting shows Princess Diana flanked by Kate and Meghan on both the sides and young Princess Charlotte with her mother.
She captioned the painting, 'Here comes the joyful version of the royal family which I would like to express the bonding that's precious.'
Next painting was of Diana with her sons, William and Harry, and her grandsons, Prince George and Prince Louis.
The graphic designer's interpretation of the Royal wedding was well received by people, with one user saying that she had created magic with her beautiful paintings.
Ying also mentioned that she plans to sell her art and the proceeds from the paintings will be donated to the United Nations International Children's Emergency Fund. She intends to help the malnourished children in Cambodia.
Please fill in your e-mail so we can share with you our top stories!