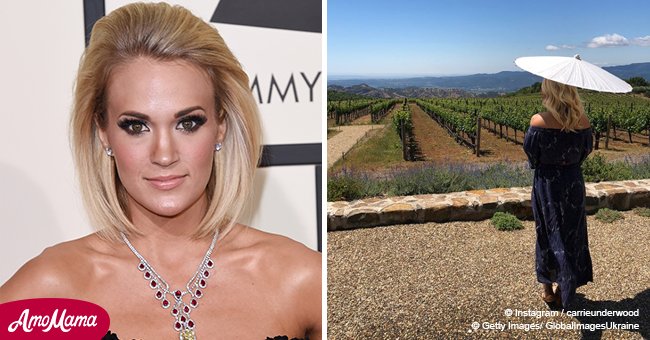 Carrie Underwood shared vacation photos of herself wearing a gorgeous dress
Singer and songwriter, Carrie Underwood, performed as the headliner at the Live at the Vinyard's country edition festival while on vacation with her family.
Underwood, who celebrated her 35th birthday in March, spent some quality time with her husband, Mike Fisher, and their 3-year-old son, Isaiah.
They traveled to Napa, California and Underwood shared photos of the trip to her Instagram account. In one of the images, she wears a purple dress while holding an umbrella.
She wrote in the caption that she missed the 'cool breeze and beautiful scenery' in Napa. The images have received more than 200,000 likes in less than 24 hours.
'We don't get to vacation much, but are so glad when we have a day or two to unwind and catch up with great friends!'
Carrie Underwood, Instagram, May 24, 2018
In another post, Underwood can be seen posing with a friend. From this angle, her matching handbag and red belt are visible.
Underwood also shared a photo of her on-stage appearance at the country festival. In the last picture in the slide, she poses with her husband.
'Napa Valley, you're my happy place! Amazing wine, beautiful scenery, wonderful friends, new places and a yummy dinner,' she wrote in the caption.
Underwood also said that 'Life is good' and joked that she 'married up' when she walked down the aisle with Fisher.
The couple started dating in 2008 and were married two years later. Their son was born in 2015, and the family-of-three live in Nashville, Tennessee.
Underwood is gradually returning to the limelight since she slipped and fell at her Nashville home in November last year.
Fans can look forward to the release of her next album, Cry Pretty. David Garcia is co-producing the album with her, and it will be available from September 2018.
Please fill in your e-mail so we can share with you our top stories!