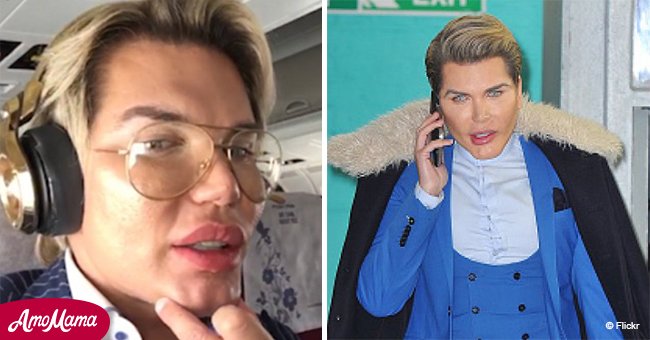 Human Ken Doll shows off tiny waist after rib removal
He underwent surgery just 2 months ago, and has made his first public appearance since on a talk show where he shared his experience.
Rodrigo Alves, also known as the Human Ken Doll, was back in his home country of Brazil where he appeared on television show The Night to show off his new figure.
As reported by Daily Mail, Alves had surgery in March 2018 to remove four of his ribs in a bid to slim his waistline.
The 34-year-old was bubbly and playful on screen, whipping off his blazer on camera for the show's host to measure his now much tinier waist. Underneath the blazer he was wearing a lacy corset.
But unlike most people who would just have shrugged the blazer off, Alves took the moment to create quite the fanfare as he gyrated and danced around while taking it off, before handing it to another guest on the show.
Unfortunately, it hasn't been all smooth sailing for him since the surgery. In fact, he revealed that he actually regretted undergoing the procedure.
"I have gained two stone since because I couldn't go to the gym and walk. To heal properly I had to rest. I'm now due to have a gastric ballon fitted next week which will help me to go back to my ideal shape. All my outfits are so tight and I refuse to buy a bigger size," he said.
To date, he has spent more than £500,000 on surgery. He also shared that he wouldn't be having any more plastic surgery, but that he has no intention of halting the aesthetic procedures.
Another guest on the show was Hugh Jackman, and Alves admitted to the audience that he had met the Wolverine star before.
As an air steward, Alves flew the route between London and New York, and Jackman had been a passenger on the flight in first class. When the seatbelt sign came on, Alves had to tie the actor's seatbelt, as he had been sleeping.
"He is so tall and big I was scared to wake him and upset him. Eventually I managed to fasten his seat belt and he woke up and grabbed my arms and I started to sweat and he said 'thank you' and went back to sleep," Alves said.
Alves also confessed to idolizing Jackman's character in The Greatest Showman, that of P.T. Barnum. Alves aspires to be a "showman ringmaster style" on television, and has high hopes that that dream will come to pass soon.
The surgery enthusiastic dreams of having his show in Italy, saying that that is the place where he has been happiest doing his show.
"I love the food, the people and the culture the TV shows are very glamorous with a big production value and I would like to focus now on having my big TV show out there if I cannot have it in the UK," he said.
Please fill in your e-mail so we can share with you our top stories!