Toni Braxton embodies '50s glamour in curly pin up hairdo & lacy vintage-style tights
The newly engaged singer glows in a sexy all-black ensemble showcasing some thigh skin and cleavage while projecting a vintage look. 
Toni Braxton channeled a 50's vibe when she shared a photo from inside her car looking hot and sexy in vintage-style tights.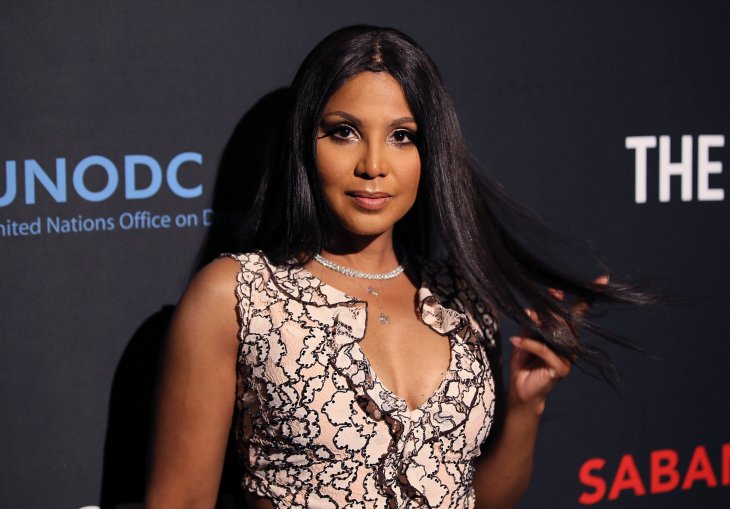 The 50-year-old who recently got engaged to rapper Birdman glammed up in a black pinstriped robe dress that she wore bra less, flaunting her cleavage with her garb's plunging neckline. She crossed her legs to reveal her thigh-high lace tights as the hem of her dress dangerously graced her upper thigh while she sat at the back seat of her vehicle. 
Complementing her look, she styled her hair in a curly pin-up fashion projecting a 50's vibe.  With her dark eye make-up, pink lips, and the thick silver jewelry she wore around her neck, the singer was a total babe. 
Simply captioning her photo with the word "vibes" and a heart emoji, Toni didn't need to say much as the photo spoke for itself. However, fans had something to say particularly about her nose which they believed had undergone the knife. One fan criticized the star for fixing her nose.
"Man nooooo!!!!!! Tell me u did not go under the knife on that beautiful face why is black folk in show business wanna look like the Jacksons and Lil Kim man we gotta do better!!!!!"
But others complemented the star for a "beautiful nose job!!!"
Another defended her saying it's the same nose from a surgery she did in the 90's.
"Nope, it's the same exact nose that's on her face from when Toni had it done only once in the early 90s, which she admitted that in her memoir."
Whether she had a nose job or not, tt was also clear that the singer was glowing, following news of her engagement just a few months ago. 
Last February, the singer debuted her engagement ring and made the announcement in a teaser for the upcoming season of her WE TV show, 'Braxton Family Values.' In the clip, she told her family,
"I have an announcement to make. I'm engaged!"
Showing off the massive diamond ring her 49-year-old rapper/fiancé gave her, it elicited smiles from her family members who appeared to approve of their union.
The soon-to-be-wed pair started dating in May 2016, just a month before they publicly debuted as a couple at the 2016 BET Awards. However, they've had a long history, as they met in 2002 while working on 'Baby You Can Do It'.
Toni was previously married to Keri Lewis. The couple were together for 12 years and share two sons together. They separated in 2013.