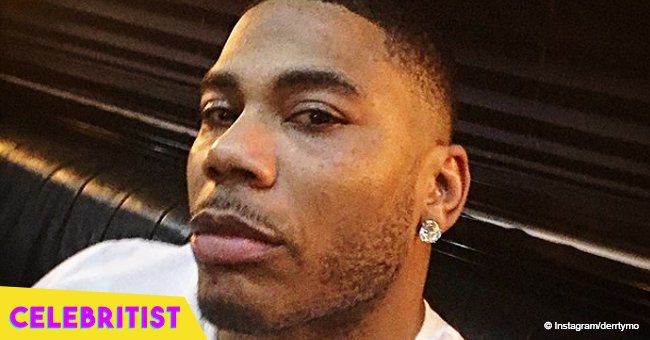 Nelly shares photo with his longtime girlfriend in see-through black dress
Rapper Nelly looked rather serious while posing behind his longtime girlfriend Shantel Jackson. Shantel is wearing a seductive, see-through black dress and her dark hair is tied back. The couple make an attractive picture, but fans were more interested in why he hasn't put a ring on her finger.
Celebritist learned from "Instagram" that 43-year-old Nelly's photo was flooded with comments asking him why he hasn't made his relationship official.
zidge3 wrote:
"Put a ring on it already!"
Miacheduci wrote:
"@maryloui211 I was just going to say, finger still looks bare."
Misedofjoy wrote:
"Nope. Don't see it! When you gon get her one?! #TheRing."
Although many fans insist it's time Nelly pops the big question, others were adamant that the couple should take their time. Their argument is that as long as the couple are happy, there's no need to make it official.
smiley_ladii wrote:
"@maryloui211 it's allot of money involved with marriage/DIVORCE. Let them make that decision ijs. she knows what she wants and he knows what he wants. Let them live."
Although Nelly likes to show off his girlfriend's incredible looks, it seems this couple's relationship isn't built on superficiality. "TMZ" reported in last year that Nelly had been arrested on allegations of rape. His accuser claimed that she was raped on his tour bus while parked in a Walmart lot in Washington.
Nelly's legal representatives told "TMZ" that he was the victim of a "completely fabricated story". According to "Complex" the charges were eventually dropped. The attorney of Nelly's accuser also alleged she had spoken to two other women who claim they were sexually assaulted by the rapper.
Shantell took to "Instagram" and stated that these claims can't be true, as she was with Nelly during the alleged times of the incidents.
"Those dates these Jane Doe's [sic] are claiming, I was at those venues, in the dressing rooms, and on that tour bus. There are women dealing with real issues of sexual assault and for the first time people are listening and there is a chance for real change. But all of this work is discredited and makes things harder for survivors when people lie."
Do you think Nelly should make his relationship with Shantel official?
Please fill in your e-mail so we can share with you our top stories!