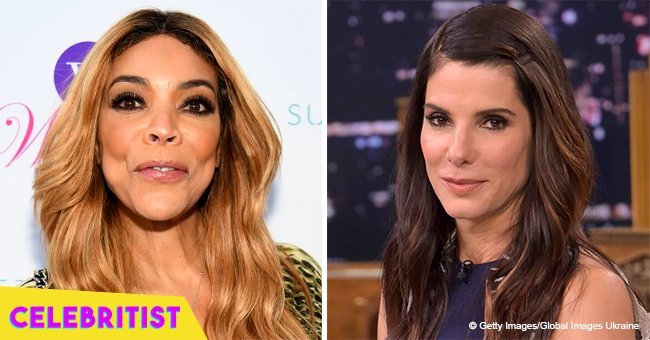 Wendy Williams and Sandra Bullock rock the same floral wrap dress within one week of each other
TV host Wendy Williams and "Miss Congeniality" actress Sandra Bullock don't have a lot in common aside from being active names in the entertainment industry, but they recently proved that they have a similar taste in fashion. Both women rocked the same dress and fans have been making comparisons to see who wore it better.
Celebritist recently noticed that Wendy Williams and Sandra Bullock share the same taste for floral dresses, as they rocked the same dress within one week of each other, with Sandra being the first to appear on screen wearing it.
The yellow wrap dress with floral details is a creation of designer Diane Von Funtersberg, better known as DVF. The chic and classic piece it's valued at $498, and because of its adjustable belt, it can be molded for any type of body.
Sandra, who's currently promoting her newest film "Ocean's 8," visited The Ellen DeGeneres Show" last week, and she stunned with the dress as she completed the look with black lace-up heels and her straight locks down her back.
Williams, on the other hand, wore the dress on her May 24 show, where she interviewed Eddie Murphy's ex-wife, Nicole Murphy. Wendy went for silver flat shoes from Manolo Blahnik and curly hair, which gave her look a more youthful aura.
We have to admit that both women rocked the dress in their own way because fashion has a lot to do with attitude and personality, and that's something that both Wendy and Sandra exude. The silky dress is perfect for the summer, and the ladies just proved that anyone can wear it.
While on Ellen, Sandra spoke about her adorable kids as she revealed that while they do have a good relationship, sometimes they want to "kill each other," which is totally normal. She revealed that her son Louis is more quiet and thoughtful while her daughter Laila is ready to take on the world one of this days.
She said that it was actually Louis who asked for a sister:
"He wanted his sister and he knew she was his sister, but now there are moments when they want to kill each other. She more him, than him her. But I like that about her. I like that she'll take a knife and cut a guy."
Sandra will surely pass down her fashion sense to her adorable daughter, so we can't wait to see more of the girl as she keeps on growing up.
Wendy and Sandra are not the first and will definitely not be the last celebrities to wear the same clothes. In our opinion, they both rocked the gorgeous dress on their own, but we want to know your opinion.
Who wore it better? Sandra or Wendy?
Please fill in your e-mail so we can share with you our top stories!