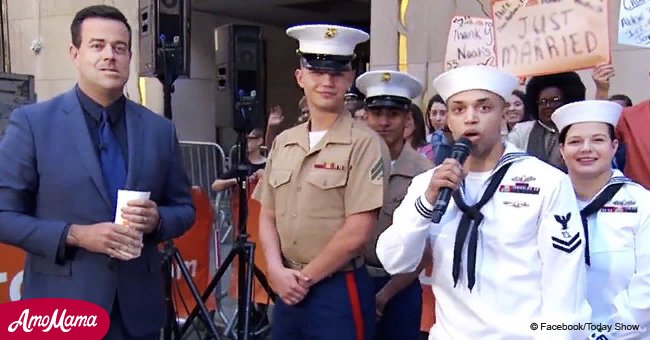 Video shows Navy officer's family pranking him with surprise reunion
A video footage reveals the heartwarming incident that took place at the TODAY plaza.
Fleet Week Thursday was celebrated on May 24, and like every year, several servicemen and women reunited with their families during their break.
As reported by Today, crowds waited and cheered for their heroes from the Marines, the Navy and the Coast Guard at the TODAY Plaza. One of the servicemen at the plaza was Navy officer Devin Turner.
He stood along with his colleagues and friends at the plaza while people gathered to thank them for their service, but there was a surprise in store for him.
The San Diego native was stunned when Today host Carson Daly walked up to him and greeted him warmly. After exchanging a few words, Daly had a task ready for Turner.
He handed the microphone to Turner, requested him to read the news so that his family in San Diego would see him on their television screen.
Under this pretext, Daly asked him to read out a message flashing on the teleprompter in front of them. The unsuspecting serviceman took over and began reading the announcement out loud.
The message stated that the top story of the day was Fleet Week. Turner donned the role of a reporter as he read out that people had come together to greet and thank the servicemen and women.
The message continued, mentioning one special family who had traveled from their San Diego home to the plaza to surprise their father and husband.
At this point, Turner was shocked on reading out his own name from the prompter. Anticipating a surprise, he bowed his head for a brief moment.
When he raised his head, he saw his 6-year-old daughter and 2-year-old son running towards him, along with their mother Stephanie.
All this while, only Stephanie knew about the big surprise. The Turner family huddled up in a big, warm embrace. The toddlers cheered on reuniting with their father, while Turner took the moment in.
Expressing his feelings about the surprise, Turner was almost speechless, sharing that it was an amazing feeling.
Please fill in your e-mail so we can share with you our top stories!