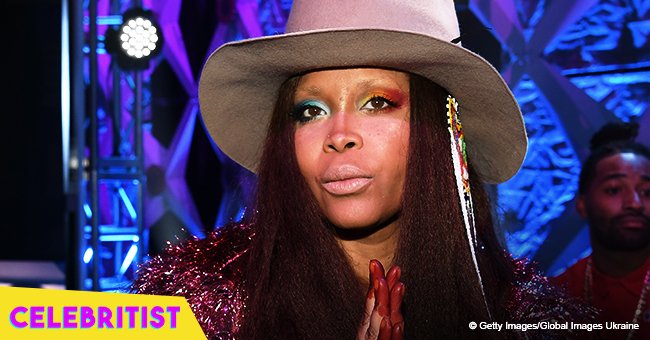 Erykah Badu doesn't regret saying 'kind' words about Hitler
Erykah Badu is not your regular artist. From the way she talks to the music she makes, she makes it clear that she is an artist in a mission to change her world positively. Her authenticity is not duplicable, but it sure does inspire originality.
"If you're calling to wish Erykah happy MLK day, Kwanzaa or Juneteenth, press one. If you're asking for tickets to a show, but know I don't really fuck with you like that, press six. You should probably send me a text. I don't really do voicemail." That is Erykah Badu's voicemail that will certainly give you an idea of the kind of artist she is. This legend's music has remained relevant across all generations despite being 47 years old.
Badu has made it clearly known that she is her own person who is owned by no one, and in so doing made utterances that most artists would be afraid to make. She was blamed for performing at King Mswati's of Swaziland (now eSwatini) birthday, being as he is a dictator who oppresses the systems in his Kingdom. In response, Badu said; "I went into a situation not completely knowing [Swaziland's] political climate. [But] I can't be held responsible for the situation in the kingdom, because I signed up as an artist, not as a political activist. I don't belong to anyone or to anything."
Another controversial utterance was Badu's comment on skirts and school girls in New Zealand. "Males should be taught to be responsible for their actions from childhood. It's not ok to 'prey' on young women. But do I think it is unnatural for a heterosexual male to be attracted to a young woman in a revealing skirt? No. I think it is his nature." The string of tweets on the Cut gives her perspective better.
Those moments, though momentarily spicy, were nothing compared to the icon's Hitler mention.
"I love Bill Cosby, and I love what he's done for the world," she said. "But if he's sick, why would I be angry with him?" Then things went nuclear. "I'm a humanist. I see good in everybody. I saw something good in Hitler."
Uum, Badu, Hitler, you said? Hitler was a wonderful painter." Silence.
Those words caused a ripple across the interwebs, but the artist would not take them back of given the chance. "But no. I would never take back a message of love," she adds. "I'm sorry that it was misunderstood. But not sorry for saying it because it was from a place of love. And sometimes that happens."
Can you stand such honesty?
Please fill in your e-mail so we can share with you our top stories!