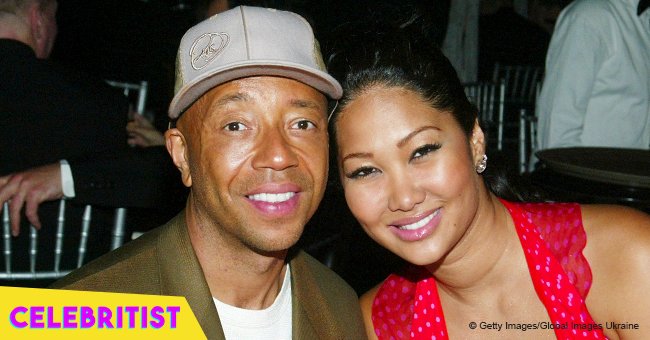 Kimora Lee and Russell Simmons' daughter stuns in high heels and red shorts in photo
Kimora Lee and Russell Simmons share two beautiful young daughters, Ming and Aoki Lee. And while the youngest one has decided to step away from the spotlight, Ming Lee is already following her mom's steps. The stunning young lady knows a thing or two about fashion and modeling, and she's constantly feeding her followers on Instagram with great looks.
Celebritist learned from Ming Lee's Instagram account that the apple doesn't fall far from the tree, and just like her mother, the teenager is already making moves in the fashion industry.
Kimora Lee was once Tyra Banks roommate, and she modeled and walked in the runways of some of the most famous fashion brands in the industry. Like her daughter, Kimora started her career before 18, so is only natural for her to be supporting Ming Lee in her endeavors.
The young lady just turned 18 a few months ago, but she has been modeling since she was 2-years-old, walking alongside her mother and sister on the Baby Phat runaway. A fashion brand created by her parents before she was born.
While her sister Aoki stepped away from the spotlight and decided to focus on her school, Ming Lee carries the passion for the entertainment industry in her DNA so, she has been splitting her time between the school where she's now a senior, and modeling.
Her biggest accomplishment until now is being an ambassador for Khloé Kardashian's Good American brand, but she's just starting. She has also walked and posed for her mother's new fashion line "Kimora Lee Simmons," and she has confessed that she drags a lot of inspiration from Kimora's old portfolios.
In recent photos shared to her Instagram, Ming Lee showed her love for a classic outfit, wearing high-waisted red shorts, a printed sweatshirt and white strapped high heels while posing on a chair and putting to use her innate modeling skills.
Speaking to Teen Vogue earlier this year, Ming Lee revealed a few of her plans for the future, saying:
"I'm definitely planning on going to college. School is my number one focus right now. I'm going to do Pre-law in college and then I'll have time to do creative things on the side. I'm looking in California and in New York City and those are the only two places. I'm going to try to work with my mom and model because I'm really passionate about it, but school always comes first."
Ming Lee also revealed that she wants to try designing in the future, and just like her parents, she wants to have her own fashion label. For now, Kimora is her best adviser, and they go to every casting together in order to evaluate what would make sense in terms of time so that her school schedules don't get compromised.
We're glad to know that Ming Lee has decided to follow her mother's steps into the fashion industry. Since she's basically Kimora's twin, we're sure she'll do amazing in the industry.
What do you think about Ming Lee's outfit?
Please fill in your e-mail so we can share with you our top stories!