Video shows George Strait's legendary performance of iconic song 'I cross my heart'
The 66-year-old country singer and songwriter, George Strait, made his acting debut in the early nineties when he appeared in the lead role of Pure Country. 
Strait also wrote the soundtrack for the country romantic drama, and the album reached critical success despite the film's lackluster reviews. 
In the movie, George Strait portrays the role of Wyatt Chandler, also known as Dusty to his friends. Dusty is a successful country music star who gave up his career. 
Instead, he returns to a simpler life, reminiscent of his youth, and finds work on a farm in his hometown where he pays for room and board while earning the farmer's respect. 
Throughout the events of the film, Dusty also falls in love with the farmer's daughter, Harley. Dusty proclaims his love for Harley by performing a song he wrote especially for her. 
As reported by Country Music Nation, Dusty sat on the edge of a makeshift stage and sang I Cross My Heart. The camera shows Harley as she sits with her family, listening intently to the words. 
Tears well up in her eyes and even her stern father, Ernest Tucker, gets emotional while listening to the beautiful song. The scene has gone down as one of country music's most romantic moments. 
Strait was already an acclaimed musician when he accepted the lead role in Pure Country. He started his singing career in the early seventies when he joined Stoney Ridge.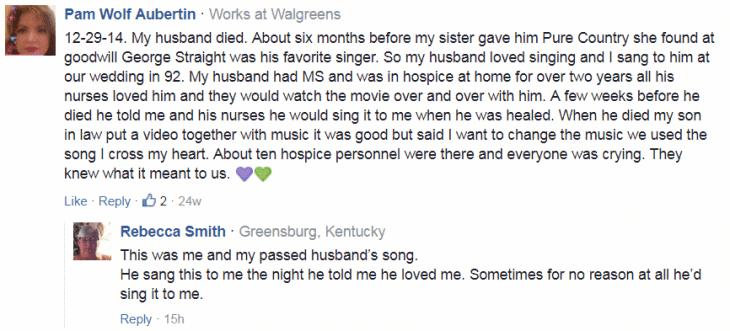 His first single, Unwound, was released in 1981 and reached the sixth spot on the Billboard Hot Country Songs.
Strait produced 29 albums throughout his career, the last, Cold Beer Conversation was released in 2015 and included 15 songs. 
He announced his retirement from touring in 2012, and delighted fans once last time with The Cowboy Rides Away tour. 
He performed mainly in Texas and tour tickets were sold out within hours. Performers such as Jason Aldean, Faith Hill and Tim McGraw all came together to give Strait the send-off he deserved.