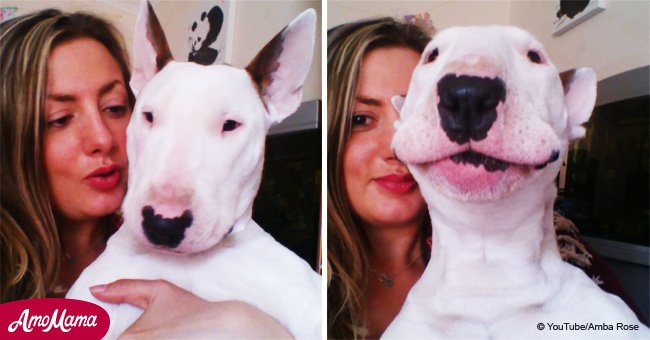 Video shows Bull Terrier 'singing' along to Ed Sheeran's 'Thinking Out Loud'
Your heart will melt after seeing this adorable Bull Terrier dog performing Thinking Out Loud while he listens to Ed Sheeran.
The cute white dog is actually named Lilly and it looks like she just fell in love with the famous 27-year-old singer's voice. Every time Lilly listens to Thinking Out Loud, she tries to sing along the whole song.
The video shows the dog sitting up on her owner's lap at the start of the performance before the owner asks Lilly: 'Are you going to sing mommy a song?'
She then clicks the play button, as the song starts Lilly immediately sticks her ears up, anticipating a sing-along, and then she produces a lovely singing performance.
This beautiful dog is so cute when howling. What's even funnier is that Lilly hilariously howls in time with the music, singing loudly along with Ed and pausing at the breaks of the song. This is so adorable and definitely a very talented one.
You can see in the video that the dog is really into it and is totally enjoying singing along with Ed Sheeran. It is just unbelievable that a dog can be a fan of a pop artist and get excited when it hears his songs.
However, there is no wonder about why Lilly likes so much Ed, he has won four Grammy Awards, five Brit Awards, had an album go seven-times platinum, and five number one singles.
The song performed by Lilly, Thinking Out Loud, received nominations for Grammy Award for Record of the Year, Song of the Year and Best Pop Solo Performance at the 58th Grammy Awards, winning the latter two.
Since the video was posted on Youtube it has had more than four million views. People who have watched just love how cute and adorable the dog howls to imitate Ed Sheeran's voice.
Please fill in your e-mail so we can share with you our top stories!