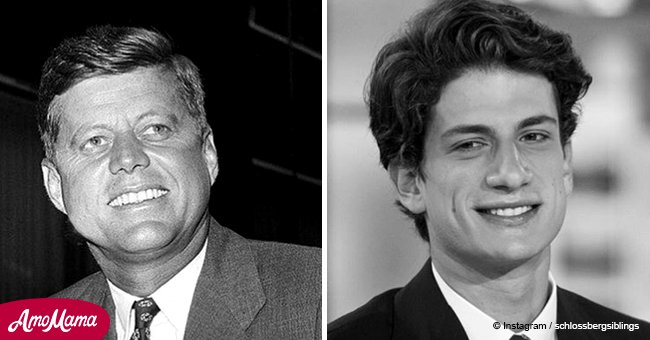 The only grandson of John F. Kennedy recently made his acting debut on 'Blue Bloods'
It was a dream come true for John Schlossberg who was cast in the crime drama, Blue Bloods, as Jack Hammer.
The 25-year-old actor posted a photo from the set of the show, revealing to his followers on Instagram that he would appear in the season 8 finale.
Schlossberg is the son of Caroline Bouvier Kennedy and Edwin Schlossberg and the only grandson of John F. Kennedy, the 35th President of the United States of America.
'I don't make the rules, I just pretend to enforce them – Cash [sic] me tonight on season 8 finale of Blue Bloods my dream come true!! Best show in the entire world.'
Jack Schlossberg, Instagram, May 12, 2018.
According to ET Online, Schlossberg is a student of law at Harvard. He wants to follow in the footsteps of his famous grandfather and hopes to make his family proud.
A year ago, he made his first TV appearance with his mother on the Today show where the two discussed his future in politics.
Schlossberg has shown interest in the family business and is also someone who values his family's traditions. Schlossberg traveled to Japan to visit his mother, the then U.S. Ambassador to the country, reported People.
The two toured the damaged Fukushima nuclear plant and visited an orphanage.
His first claim to fame was when he co-founded ReLightNY at the age of 14 with an aim to provide energy-efficient light bulbs to low-income housing developments.
He has since graduated from Yale University receiving a degree in history. Schlossberg is passionate about politics and is involved with various philanthropic causes, just like his grandfather and mother.
Not many people are aware that his grandfather, former President John F. Kennedy, donated his presidential and legislative salaries to various charities.
Schlossberg says he still has a lot to 'figure out' while he 'makes his own way' in the world.
JFK was assassinated on November 22, 1963, while his motorcade was driving through Dallas, Texas. He was declared dead about half an hour after the attack.
Please fill in your e-mail so we can share with you our top stories!