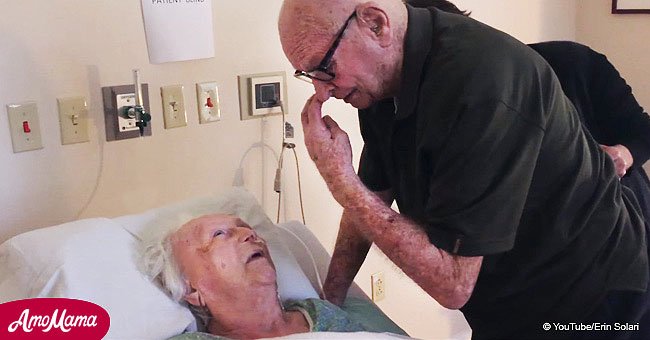 WWI veteran captured on film singing to his dying wife
At a hospice facility, a 92-year-old man was recorded signing You'll Never Know, performed by Rosemary Clooney and Harry James, to his 93-year-old dying wife.
The love that Howard and Laura Serena shared went above and beyond as they were married for 73 years. When Laura, who was 93 when the video was recorded, fell ill and was taken to a hospice, the entire family got together to spend their last moments with her.
One of them was, of course, Howard. In the 3-minute-video uploaded to Erin Solari's YouTube channel, Howard is shown standing in front of Laura caressing her face and talking to her.
In the description, more details about the elderly couple were given. Howard was so weak that he couldn't stand on his own, so he needed the help of one of his granddaughters.
Apart from that, he had lost most of his hearing and, since Laura couldn't raise her voice that much, other members of the family kept repeating the things that Laura told Howard.
In Laura's case, she had macular degeneration, which means that she could only see shadows and lights. However, throughout the video, it is clear that she was looking at her soulmate's eyes.
A couple of seconds after the video began, Howard started signing You'll Never Know, a song that used to comfort Laura when her husband went away to fight in World War II, according to the description of the post.
That song was so important for the couple that they performed it as a duet when they renewed their vows after fifty years of marriage. In the video, Laura could be seen trying to sing along, but she was too weak to do it.
Thanks to the good care that Laura got in the hospice, she was able to go back home and live for a couple of months. Ironically, Howard passed away before she did, on May 15, 2016.
Only five days later, on May 20, Laura passed away, too. They were laid to rest side by side in their hometown of Sarasota, Florida.
Please fill in your e-mail so we can share with you our top stories!