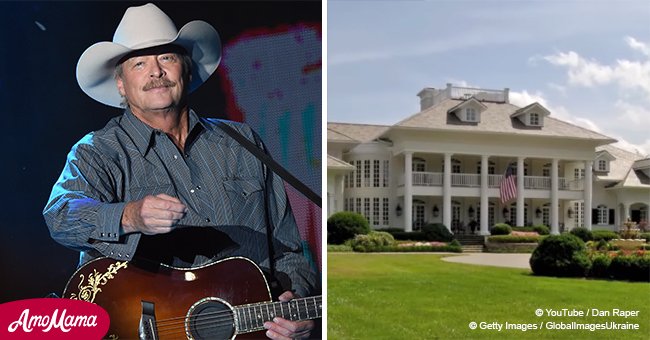 Alan Jackson's palatial home sold for $28 million
The 59-year-old country singer and songwriter, Alan Jackson, built his mansion in the mid-nineties. In 2009, Jackson and wife wanted to scale down.
In June 2009, they listed the 135 acres Sweetbriar Estate in Tennessee for $38 million, and the house only sold for $28 million the following year. They have since moved to Nashville.
Jackson had dreamed of building a large family home where he and Denise could raise their children. He was inspired by the Georgia-style home feature in the classic film, Gone With The Wind.
The style is reminiscent of the family homes found on cotton plantations in the south of America during the late 1800's. Jackson grew up in Georgia wanted the nostalgia of his childhood.
He completed the home in 1997, and also included a world-class 20-vehicle garage for his growing collection of automobiles. The property also has a 10-acre lake with a boathouse and a barn.
For entertainment, Jackson built a tennis court and basketball court, as well as a large swimming pool and three ponds. His personal office had maple floors.
As reported by Country Music Family, the interior of the main house is just as impressive. The house has a dining room, living room, and family room, as well as a home theatre, pub and gourmet kitchen.
Four bedroom suites are situated on the second floor, and the family room has 22 ft ceilings, but it the house was overkill when Jackson's children moved out to start their own journeys.
According to Nashville Post, the property was listed for 11 months before being purchased by Willis and Reba Johnson. Willis is an auto auctioneer who founded Copart Inc in 1982.
He started out with a single salvage yard in California. He soon became the global leader in an online auction and Copart auctions approximately 125,000 per day.
Willis resigned just months before purchasing Jackson's home, and also owned a house worth $8.9 million in Suisun Valley, San Francisco.
Please fill in your e-mail so we can share with you our top stories!