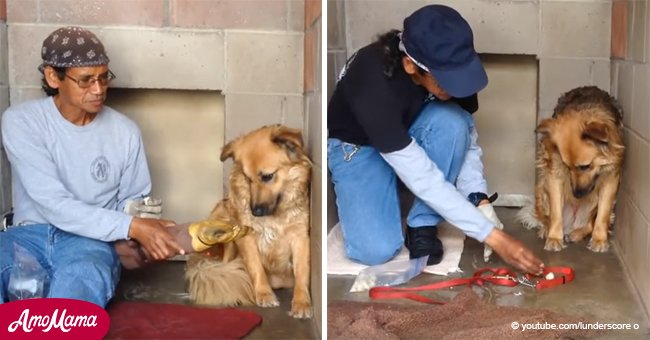 Rescue worker dedicated a year to tame stray dog
Sassy is a German Shepherd who used to live with a group of dogs on the streets. After being rescued, people noticed that she didn't like to be around humans.
Since Sassy was feral, would bite others if cornered, and would keep her distance from people, the Coastal German Shepherd Rescue – the organization that rescued her – knew that they had to send her to a professional trainer.
That person was Jeff Tesoro, who has been working with feral dogs at Your Dog Trainer for a long time. In a video uploaded to the YouTube channel of Iunderscore o, the most important parts of the process were shown.
During the first week, Sassy would corner herself and adopt a scared pose, tucking her head down and barely responding to the food that Tesoro tried to give her. She was so scared of people that she would defecate if anyone approached her.
In the second week, Sassy still looked scared but Tesoro decided to take another step in the process. He was trying to put a collar around her neck so she could walk out and play with other dogs.
Since Sassy had never worn a collar, Tesoro had to make her comfortable with it before actually making her wear it. He placed food in the middle of the collar so Sassy could smell it while eating.
Days later, Sassy was getting better about being touched and Tesoro could put on and off the collar multiple times. The next step was taking her to the yard with the collar on so she could get used to walking with it.
Six months after Tesoro started working with Sassy, she would take long walks and even enjoyed being touched and pet. According to the video's description, it took Tesoro one year to prepare Sassy for adoption.
Soon after that, a family adopted her and Sassy is now living with a lovely couple and a canine brother and sister.
Coastal German Shepherd Rescue is an all-volunteer non-profit organization with no paid employees. Thanks to people's donation, they are able to rescue dogs like Sassy.
Please fill in your e-mail so we can share with you our top stories!