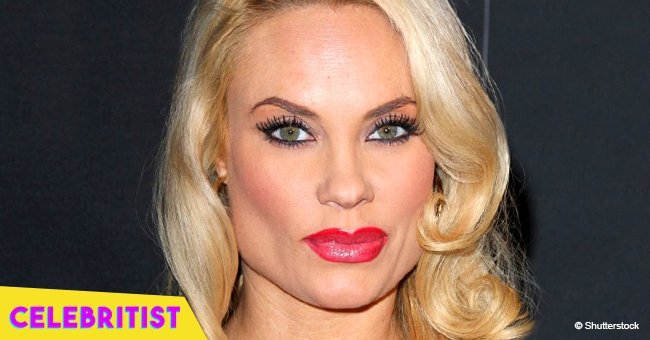 Coco Austin slammed for breastfeeding 2½-year-old daughter Chanel
Coco Austin is being slammed on social media for her parenting skills, again. This time, the issue revolves around the fact that she's still breastfeeding her two-year-old daughter, Chanel, and while some people believe the girl is too big for that, others are just offended by Coco showing her breasts on social media.
Celebritist learned from Coco Austin's Instagram account that the model is still breastfeeding hers and Ice-T's daughter, Chanel, even though she admitted she's doing it now for comfort more than anything.
Austin has been widely criticized on social media for her choices as a mother. She is known for being a model that makes money by showing off her curvaceous body, and even after Chanel was born, she hasn't stopped on that, stating that the fact she's a mother doesn't mean she has to stop feeling sexy.
She has also get critics for dressing Chanel like her mini-me. They are often wearing matching outfits, and people believe Chanel won't be able to develop her own personality while Coco is trying to turn her into a version of herself.
The 39-years-old is not bothered by the haters at all, and she has been raising Chanel wonderfully, as she revealed to People magazine that the little girl is a natural performer, something she inherited from her father.
Now, Coco is facing bad comments about her parenting style once again. She recently posted an adorable photo of her baby girl asleep on her chest while resting her little hand on Coco's side boob, and the photo was clearly taken after a breastfeeding session, as she wrote in her caption:
"I follow some mother empowering pages here on Instagram and I love the inspiring pics they post showing the tenderness and love between a mother and child with or without nursing moments... I love that I can be a part of that. @babychanelnicole has made me a more sensitive person now that I'm older."
The fans' reactions to the photo have been mixed. With some mothers applauding Coco's decision to keep on nurturing her girl and sharing their own experiences on the comment section, and other slamming Austin for breastfeeding a 2-years-old and taking advantage of the situation to "put her boobs on display."
Read some of the comments below:
"made_in_greece48: No this is now more for YOU than her ..totally inappropriate. Let her grow up .."

"easternend: @coco nursing after 2 years old is disgusting is it for their benefit or your pleasure"

"baughmanpamela: Gross does the whole WORLD have to see this? #attentionseaker"

"purplegrape23: Breastfeed it's your business by why post it for everyone to see? Oh right so everyone can see your breast."
Austin has been very outspoken about breastfeeding since Chanel was born, and even though the topic might make some people uncomfortable, the more we talk about it as the normal thing it is, the more people will have to open their minds to it.
She said to E! News in an interview in 2015:
"I got breast implants, so I wasn't sure if I could even breastfeed … I was hoping I'd be one of those women who can because my whole family has been really pro-breastfeeding. Breastfeeding, I know it's liquid gold. I know is good for her hair, her eyes, her skin, just developing all the organs, everything so I was like forcing the issue on her."
Coco sure has made her research on the topic, and even though she admitted to breastfeeding for comfort now that Chanel is growing up, specialists have stated through the years that nourishing a child to sleep with breastfeeding is a pretty normal happenstance and is good for both the child and the mother.
Despite all the harsh critics she gets, we're glad to know that Coco is just doing what she knows is the best for her adorable daughter and their incredible bond.
Please fill in your e-mail so we can share with you our top stories!