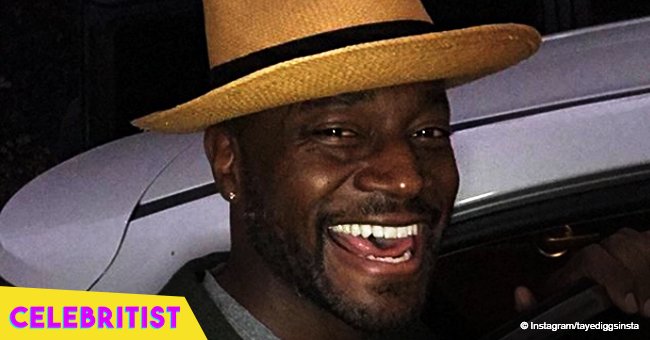 Taye Diggs shares precious moment of relaxation with biracial son in recent photo
Taye Diggs is known for his roles in television and Broadway, where he met the mother of his child, Idina Menzel back in the '90s. Their son, Nathaniel Diggs, is a handsome biracial kid, and Taye has been slammed in the past for his comments about race regarding his son's identity.
Celebritist learned from Taye Diggs' Instagram account that the "Rent" actor recently spent some relaxing time with his son Nathaniel, and he snapped a photo to share his happiness with fans on the 'gram.
Taye shared a beautiful photo alongside his eight-years-old son while laying down on the bed and probably watching something on TV, as their gazes are adverted from the camera and focusing on something out of the frame.
"Heaven," stated Diggs in the caption of the photo, resuming in one word the feeling of sharing some precious time with his only son.
Taye and Idina Menzel tied the knot back in 2003, and they had a happy marriage for ten years until they filed for divorce in 2013. However, the divorce has not affected Taye's relationship with Nathaniel, and instead, the actor has shown his concern about his son's upbringing as a biracial kid.
In polemic declarations he made to the Grio back in 2015, Taye revealed that he prefers that people refer to his son as "biracial" instead of "black," saying:
"When you [call biracial kids Black], you risk disrespecting that one half of who you are and that's my fear. I don't want my son to be in a situation where he calls himself Black and everyone thinks he has a Black mom and a Black dad, and then they see a White mother, they wonder, 'Oh, what's going on?'"
The situation even inspired Diggs to write a children's book called "Mixed Me," his second publication after "Chocolate Me," a book inspired in his own experience growing up as a black boy in a predominately white neighborhood.
Speaking about "Mixed Me" he said.
"Mixed Me is kind of along similar lines for my son, even though in this day and age he's going to have less of an issue being mixed than I did. It's a book of self-love and self-appreciation and knowing that you are special regardless of what people will say about you because people will always say stuff."
Taye's ultimate goal with his book is to let biracial kids like his own son understand that they don't have to choose one side of their identity, and instead, they can fully embrace both races equally.
What do you think about Taye Diggs' statement about his biracial son?
Please fill in your e-mail so we can share with you our top stories!