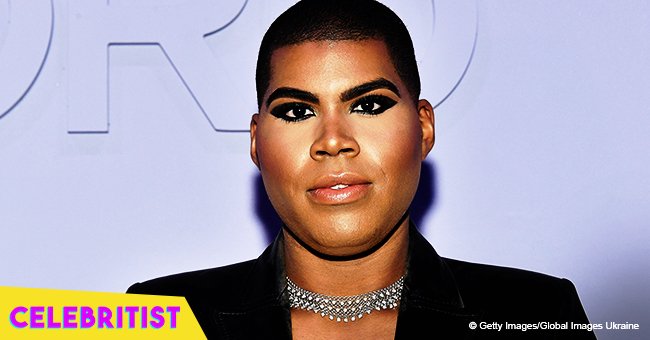 Magic Johnson's son EJ shows off some skin in leather mini-dress with plunging neckline
EJ Johnson, son of the legendary basketball player Magic Johnson, is constantly stunning his followers with his fashion choices. The young man has created a name for himself in the fashion industry thanks to his androgynous style, and he just keeps on getting risks after risks with his choices.
Celebritist was lurking around EJ's Instagram account and we stumbled with a recent photo he shared wearing a skimpy long-sleeved leather dress that enhanced his best assets as he enjoyed a good time surrounded by friends.
EJ also rocked a sparkly choker, stylish sunglasses and a smoky makeup on his eyes, as he puts his toned legs on display with the mini-dress that can easily put to shame his female friend's outfits. Even though he enjoys wearing women's clothes, EJ doesn't consider himself as a transgender person.
In an episode of his show "EJ NYC," he visited a gender specialist, as he admitted that he had started to doubt his gender after Caitlyn Jenner came out as a transgender woman, however, he said:
"I thought about it, for sure. I was just like, 'Well, do I want to transition? Is this something that I would do?' I'm pretty comfortable with myself. That conversation was just about people trying to put me in a box."
The 25-years-old has become a fashion icon for people that don't believe in clothes being gendered, and his style is characterized for mini dresses, skirts, furs, high heels, and sheer tops that put on display his legs or chest area.
Johnson was first put into the spotlight when he was still in the womb because his father announced to the world he had been diagnosed HIV positive. Cookie Johnson, his mother, feared that the baby would have the virus as well, but luckily, he tested negative.
Years later, EJ was forcefully outed as a gay man for TMZ, when he was caught leaving a gay club holding hands with his then boyfriend. However, instead of denying his true self or feeling ashamed, EJ took advantage of the attention and that's how he earned a spot in the reality show "Rich Kids of Beverly Hills."
In the show, his fame reached new levels as he became a fan favorite, and E! Entertainment decided to give him his own reality show, "EJ NYC" which followed EJ's and his sister's journey exploring the fashion industry in New York City.
EJ's style keeps evolving and becoming more and more daring with time, as he keeps on leaving his mark in the so-called gender revolution with his unashamed attitude while rocking his short dresses.
The young man is brave for being unashamed about his identity, and we're glad to know that he's giving hope to many other kids that could be going through a similar situation.
What do you think about EJ Johnson's daring outfits?
Please fill in your e-mail so we can share with you our top stories!