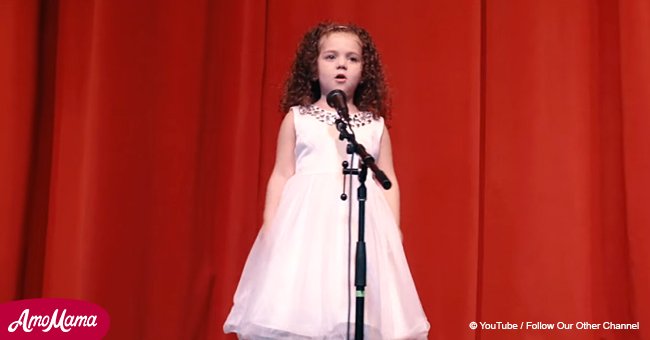 Little girl performs a classic Frank Sinatra song
This little girl sings the most unexptected tune when she steps out onto stage, and has the sweetest voice.
4-year-old Sophie Fatu takes her audience back in time when she steps out from behind a red satin curtain and up to the microphone.
In the clip shared to YouTube, the little red-headed, curly-haired girl steps onto the stage in a baby pink frock, with a confident stride.
A song choice for a budding artist can cost them their career, particularly if they botch a much-beloved and well-known tune. Sophie chose Frank Sinatra's My Way.
But although she is far too young to understand the implications of the lyrics or to truly appreciate their meaning, her adorable little voice seems to carry the massive song quite well.
Despite her youth, Sophie already has an unbelievable strength to her singing voice, and is able to belt out parts of the song that many adults would struggle to control.
Sophie's mother, Victoria Fatu, is a classical pianist and a vocalist herself, and the apple clearly doesn't fall far from the tree. If Sophie's talent at age 4 is anything to go by, she will be a powerhouse vocalist when she grows up.
According to Victoria, Sophie doesn't enjoy singing the usual children's nursery rhymes, and instead loves to sing anything from Ol Blue Eyes.
Sinatra's version of My Way sat at the top of the United Kingdom charts for an impressive 75 weeks, a record that has yet to be broken.
Please fill in your e-mail so we can share with you our top stories!