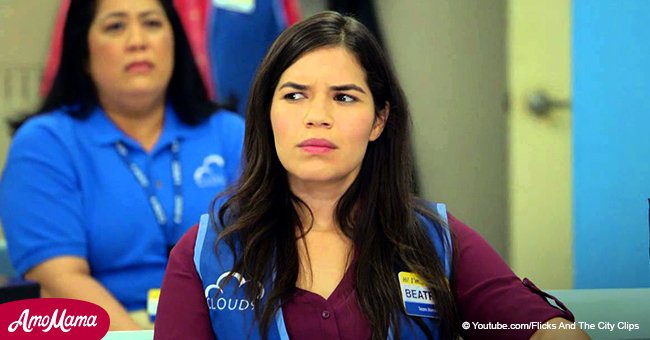 Popular NBC show's star gives birth to her first child
Actress America Ferrera welcomed her first child with her husband Ryan Piers Williams and shared a doting picture of the family of three.
Ferrera gave birth to her son Sebastian Piers Williams and shared a picture of her son's tiny feet being cradled by her palms on Instagram. Ferrera shared that her son will also be nicknamed 'Baz.'
The actress had announced her pregnancy on social media in December on New Year's Eve with a selfie with her husband, Ryan. The couple tied the knot in June 2011.
In the picture, Ferrera held a tiny onesie while the couple sported glasses that read '2018.' She wished her fans a happy new year and revealed that the couple was welcoming one more face to kiss in 2018.
"When 2 becomes 3 … Welcome Sebastian Piers Williams – aka Baz! Mom, Dad and Baby are happy, healthy and totally in love!"
The Superstore star expressed her happiness on being a new mother and shared that Baz was born healthy and the family-of-three were 'totally in love.'
Ferrera's castmates from Sisterhood of Travelling Pants, Amber Tamblyn, Alexis Bledel and Blake Lively had shared a group photo in January on Twitter, sharing their love for their first-time pregnant co-star.
Tamblyn captioned her photo by sharing her happiness. She believed that nothing could beat kicking off 2018 with the 'Time's Up' movement. She added that the happy news of Ferrera's pregnancy may be the winner in that competition.
After the birth of Baz, all the cast members of the 2005 film are mothers. Bledel and her husband, Vincent Kartheiser welcomed their son in 2015.
Tamblyn and her husband, comedian David Cross, are proud parents of their daughter, Marlow, while Blake Lively is a mother of two daughters, James and Ines, with husband Ryan Reynolds.
In an interview given to US Weekly, Ferrera admitted that she took a lot of advice from her castmates. She said that her friends were a go-to for her.
She felt lucky to have the company of so many amazing women that helped her and supported her throughout her pregnancy.
Please fill in your e-mail so we can share with you our top stories!