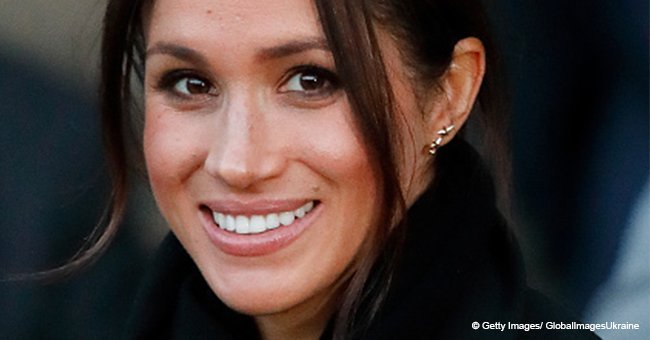 Here's what Meghan Markle's Royal monogram looks like
The Duchess of Sussex's elegant letterhead is revealed by Kensington Palace
The public's fascination with the new Duchess of Sussex started long before her wedding on the 19th of May 2018 to Prince Harry, and seems unlikely to fade away.
Every detail of the new Royal's life is followed with sharp interest and Kensington Palace has satisfied the public's curiosity with regard to Duchess Meghan's letterhead, reported Town & Country.
The monogram which will be present in every official communication from the Duchess and her staff was derived from her new coat of arms.
Letter writing is an important part of Duchess Meghan life. She once worked as a calligrapher, so it is something she considers art and she is, besides, a "firm believer of handwritten notes" as a powerful, intimate means of communication.
'I'm an actress, a writer, the Editor-in-Chief of my lifestyle brand The Tig, a pretty good cook and a firm believer in handwritten notes.'"
Duchess Meghan's letterhead is similar to that of Prince Harry, Prince William, and the Duchess of Cambridge, and consists of an upper-case 'M' surmounted by a crown or diadem.
The crown above the 'M' was originally approved by the Royal Warrant for the use of the sons and daughters of the heir apparent in1917. The crown shows two crosses patée, four fleurs-de-lys and two strawberry leaves.
That coronet is also present in the Duchess of Sussex's new coat of arms, around the neck of a heraldic songbird. The coat of arms was created for Duchess Meghan, the design having been approved personally by The Queen and by Mr. Thomas Woodcock who is the Senior Herald of England
The new coat of arms represents the Duchess' entering the Royal family, but also pays homage to her home state, California.
The blue background represents the Pacific Ocean and the two golden rays across the shield are symbolic of California, 'The Sunshine State.'
On the grass depicted beneath the shield grow golden poppies, California's state flower, and wintersweet, which grows at Kensington Palace.
Please fill in your e-mail so we can share with you our top stories!