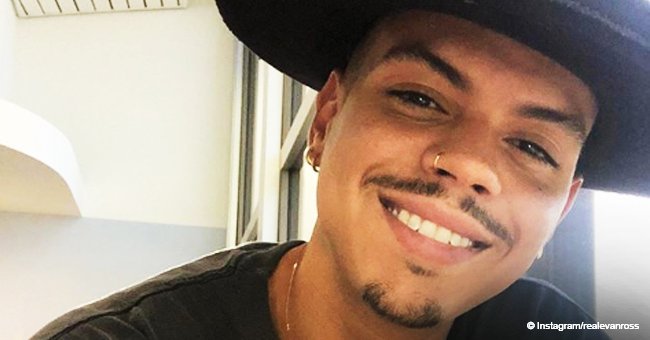 Diana Ross' son shares family photo with his wife and little daughter enjoying Disneyland
Evan Ross and Ashlee Simpson are famous on their own for being related to renowned names in the industry, and together, they have become one of the youngest power couples in the entertainment industry. They recently shared an adorable pic with their youngest daughter, just days after it was revealed they're set to star in their own reality show.
Celebritist was catching up with Ashlee Simpson and Evan Ross' Instagram accounts to see what the beautiful millennial couple has been up these days and we stumbled with a beautiful pic they shared in the company of their two-year-old daughter, Jagger.
The happy family was enjoying a beautiful day at Disneyland, where they were joined by Ashlee's mom and sister, Tina and Jessica Simpson, and Ashlee's oldest son, Hendrix, whom she shares with ex-husband Pete Wentz
Just a few days ago, it was announced that the couple, who are used to keep fans updated on their family life through social media, will be starring in a new E! Entertainment reality shows tentatively named "Ashlee & Evan."
In the show, they will open the doors of their family home, as they reveal to the world what is like to be the son of Diana Ross, and the sister of Jessica Simpson, respectively, as they cohabit with their famous families.
Speaking to Entertainment Tonight on the consequences that having a reality show can bring to their marriage, Ross stated:
"I think in any relationship in this industry, there's a stress on relationships. I think that's reality, but in no way do I think that if a relationship is meant to be together and a marriage is meant to be together, that anything like a show or being in this industry can change that."
Ashlee, who's not a newcomer on reality television, as she was part of her sister's show "Newlyweds" and later had her own show, added that the fact that they were raised in a famous family doesn't mean they're not grounded people, and said:
"We've both been around it. It's not, like, new, but it is new and it is definitely something new for us, but something fun and we've had a good time doing it."
We can't wait to see what Ashlee and Evan have in store for us with their new show, but we hope to see more of their beautiful kids on it.
Please fill in your e-mail so we can share with you our top stories!