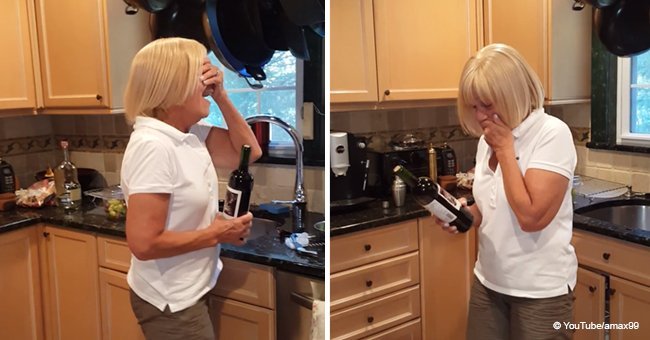 Couple surprised grandma-to-be with special pregnancy reveal
A couple residing in Center City filmed how they surprised the man's mother with the pregnancy news. Her reaction was priceless.
Andy and Stacie Burr surprised the grandmother-to-be, Janis Burr, by using a bottle of wine to let her know that they were expecting their first child.
On the video, Andy asked his mother to open the bottle of wine for him. He told her to get the bottle from his bag and he handed her a cork opener.
Janis did not notice anything at first and went on to peel the seal off the bottle cap.
Then, Andy asked Janis if she has ever tried that kind of wine before.
Janis checked the label to see if she had tried it and that's when she noticed that there was a taped-on label on the bottle.
It took her some time to realize that it was actually a sonogram picture.
She looked at her son, baffled by the photo on the bottle.
When it finally dawned on her that her son was going to have his first child, she was speechless.
She did not know what to do and just walked around the kitchen screaming, "Are you kidding me?"
She went towards Stacie and hugged her tight. She also apologized to her for saying that she looked tired.
Stacie smiled happily and hugged Janis back
ABC6 revealed that the pregnancy news was very special for Andy because he had almost lost his parents at the time.
It was a fantastic surprise for Janis as well. She had given up hope of having a grandchild since Andy and Stacie had been together for a long time and even though they tried so hard, it was only then that Stacie got pregnant.
Janis was very happy to learn that she was going to be a grandmother. Her reaction was just precious and heartwarming to see.
Please fill in your e-mail so we can share with you our top stories!