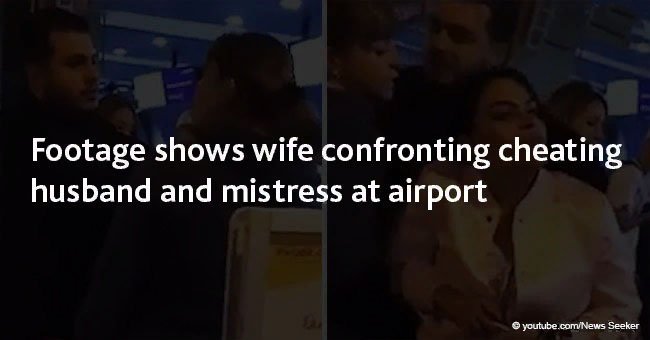 Video shows wife confronting cheating husband and mistress at airport
When the wife found out that her husband has been cheating on her, she decided to confront him and his mistress at the airport.
On May 8, 2018, a video footage was uploaded on YouTube that shows the moment a scorned wife attacked her husband's mistress at an airport in Colombia.
According to Mirror, the wife did it after discovering that the two were sneaking off on a romantic getaway.
In the clip, which was viewed more than 460,000 times, the unfaithful husband is seen attempting to separate his mistress from the forceful grip of his wife.
The wife can be heard shouting in Spanish: "On Saturday you were going to take me out with the little one and today you're taking her."
"Get rid of her or I'll cause a scandal right now. I'm not going to let go. Hit me if you want so they throw you in jail," she added
The video also shows the unnamed wife calling her husband's lover as a "prepago" or prostitute. She was also heard accusing her husband of being a "fake and a liar."
An airport employee watched on as the incident unfolded. It is not clear if airport authorities had been forced to mediate in the drama.
Mirror reported that the man and his mistress were flying off to a famous destination on Colombia's Caribbean coast, Cartagena. It isn't known if the two were able to make their flight.
According to a recent General Social Survey, more men are more likely than women to cheat, as reported by IFS Studies.
The survey revealed that 20 percent of men and 13 percent of women reported they've had sex with someone other than their spouse while married.
The gender gap in infidelity varies by ages, however. Among married adults ages 18 to 29, women are more slightly more likely than men to be engaging in an extramarital affair.
But this gap reverses among those ages between 30 and 34.
Please fill in your e-mail so we can share with you our top stories!