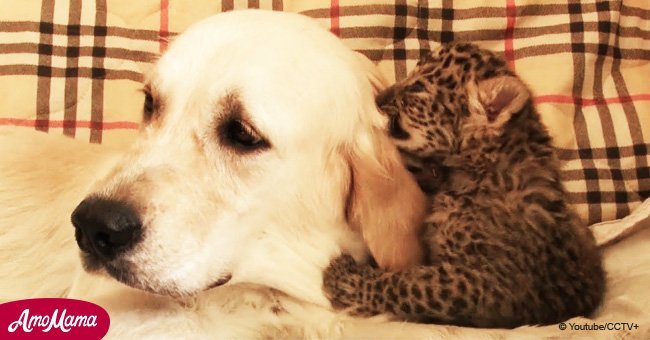 Golden Retriever 'adopted' endangered leopard cub
A cub of endangered species of leopard is being raised by a Golden Retriever. Here's how the cub-training is going.
A video report uploaded on YouTube by CCTV+ shoed how the zookeepers of Vladivostok, Russia paired a newborn Amur leopard with a canine foster mom.
According to the source, the golden retriever named Tessa took the leopard cub as her own despite already having her own four pups.
The cub is now getting a healthy dose of Tessa's milk combined with formula and rabbit meat from the zookeepers. In fact, she has already outgrown other adopted siblings.
The caretakers have also paired the cub with other felines of her own size. Since Amur leopards are few in number, she has been paired with a lioness and a tigress. Both her playmates are two and a half months old and of the same size as the leopard cub.
"Although it seems these are both big cats, their behavior is completely different," Viktor Agafonov, a veterinarian at Vladivostok Zoo told CCTV+. "The tigress is quieter. But the lioness … most of the time she keeps jogging and playing."
The cub will be allowed to bond with her feline playmates for over next year and a half and even beyond that if the grown-up felines continue to like each other.
The Zookeepers decided to separate the leopard cub from her mother for its own safety. Agafonov revealed that the leopardess had already killed and eaten her last three litters.
"We can't say for sure why this happened. But we decided not to risk another baby," Agafonov told CCTV+.
The zookeepers even matched the cub with a puppy friend so that she can learn to be kind and sociable. For the purpose, an Alabai shepherd dog was chosen because they have the size and psyche appropriate to the leopard cub.
Please fill in your e-mail so we can share with you our top stories!