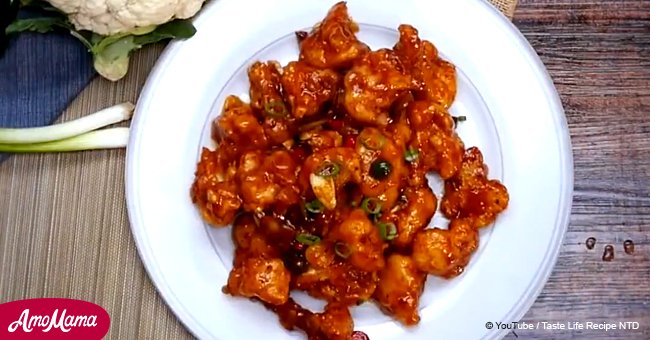 2 recipes that transform boring cauliflower into exciting dishes
Here are two recipes that show how the underrated cauliflower can be made interesting again.
NTD shared that with the right seasonings, spices, and additional ingredients, one can enjoy the vegetable.
Cauliflower can really become the star of any dish. It just needs the right ingredients and the right way to make it.
Here are two recipes with one in the form of a savory breakfast frittata and the other as a spicy, crispy Chinese-style dish.
Recipe 1
Ingredients:
One cauliflower
¼ cup Scallion
Two cloves of Garlic
½ cup Ham
Three Egg
1/8 cup Oregano
Salt and pepper to taste
1 ½ Mozzarella
1 ¼ Olive oil
Preparation:
Cut off the base of the cauliflower root and then cut the vegetable into half.
Take a grater with medium-sized holes, the one commonly used to grate cheese, and grate the cauliflower in a bowl.
Add scallion, garlic, ham, eggs, oregano, salt and pepper, and mozzarella and mix well. Set this aside.
Add olive oil to a baking tray with a baking sheet. Now place the mixture on the tray and cover it with mozzarella.
Bake it for 20 minutes, setting the oven to 400ºF. The first dish is ready to serve.
Recipe 2
Ingredients:
1/2 cup Flour
1/2 cup Cornstarch
Salt Pepper to taste
1 ½ cup Water
One Cauliflower
Oil
One tbsp Olive oil
1/4 cup Scallion
Two cloves of Garlic
1/3 cup Red green pepper
1/8 cup Soy sauce
1/4 cup Ketchup
50 ml Water
1/8 cup Paprika
1/4 cup Vinegar
1/8 cup Cornstarch
20 ml Water
Preparation:
Add flour, cornstarch, salt, pepper and water in a bowl. Stir well and set aside.
Cut off the cauliflower's root and then cut the vegetable into florets. Coat the florets with batter.
Add oil to a pan and boil it. And the cauliflower into the pan and stir-fry till it turns golden. Once it is done, set it aside.
Now add oil to a skillet. Add scallion, garlic, red green pepper, soy sauce, ketchup, water, salt, pepper, vinegar, cornstarch with water.
Now add the fried cauliflower florets into it. Stir-fry until it is cooked. The dish is ready to be served.
There are also other ways to make the vegetable a favorite in the family.
Cauliflower Rice: This is a low-carb dish for the health conscious. Separate the cauliflower after chopping the head and leaves off it.
Add it to a food processor and pulse until it gets rice-like and fine.
Heat oil in a skillet, with fresh garlic. Add the cauliflower rice and saute until soft.
Roasted cauliflower: Separate the vegetable into florets, season with salt and pepper. Add olive oil onto a baking sheet and heat it in the oven at 400 degrees F.
Top it with grated parmesan and lemon juice to make it more interesting.
Cauliflower soup: Take a roasted or boiled cauliflower and puree it in a blender with some milk or broth to form a smooth creamy soup.
Add garlic and fresh herbs for an incredible taste.
Please fill in your e-mail so we can share with you our top stories!