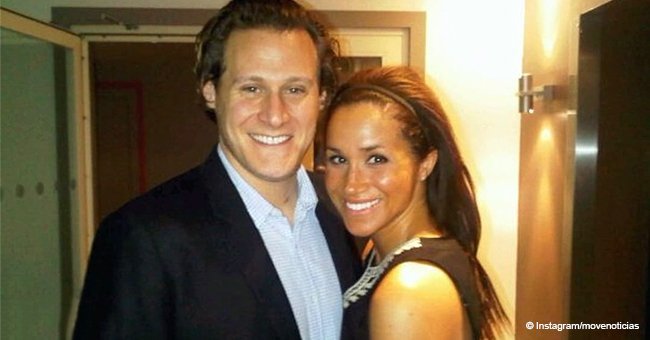 Meghan Markle's ex-husband just got engaged to his girlfriend
Trevor Engelson, Meghan Markle's ex-husband, recently proposed to his girlfriend of three years, Tracey Kurland, in Napa, California.
The 41-year-old producer popped the question just two weeks after the Royal Wedding, which took place on May 19, 2018, proving that he has moved on with his life and forgotten all about his relationship with the now Duchess of Sussex
Engelson announced his engagement on Friday, June 1, by posting a photo of himself with his bride-to-be, who happily flashed the ring on her finger. Unfortunately, the producer's Instagram account is private so fans will have to be approved before they can see the post.
Although the producer has been keeping away from the spotlight ever since he divorced from Markle in 2013, the truth is that their marriage was highly analyzed when the press learned that she was dating Prince Harry.
Engelson is in a happy relationship at the moment and seems to be ready to start a family with Kurland, but it was reported that he didn't handle the divorce very well at the time.
In 2017, it was announced that he was working on a new project for a TV show, which would be based on the idea of a man whose ex-wife met and married a royal family member.
This wasn't particularly good for Engelson's image, who was depicted as jealous of the Duke and Duchess of Sussex's relationship. Nonetheless, his career seems to have gotten back on track.
The 41-year-old produced two documentaries, L.A. Burning: The Riots 25 Years Later and Give Me Future: Major Lazer in Cuba, in 2017, as well as Snowfall, a TV series
In 2018, Heathers, the TV show based on the 1988 movie, was scheduled to debut on March but it was postponed following Marjorie Stoneman Douglas High School shooting on February 14.
Engelson's show was supposed to premiere in July but it was shut down considering the chain of school shootings that have been terrorizing the American country.
As the producer prepares for his upcoming wedding, he will also be working on his two most recent projects, 13 Minutes and The After Party. To learn more about Trevor Engelson, you can follow our Twitter account @amomama_usa
Please fill in your e-mail so we can share with you our top stories!